A retrospective of my digital literary work was presented at Electrifying Literature: Affordances & Constraints, the Electronic Literature Organization's 2012 Media Art Show which took place in conjunction with the ELO's conference in Morgantown, WV, USA, 20-23 June 2012.
A retrospective? Of digital literature? Of my digital literature? Doesn't quite seem real. In part because Morgantown, West Virginia, is some 6000 miles from where I'm presently sitting. I missed my own retrospective! This, I really can't believe.
There have been quips of course. Aren't you a little young for a retrospective? Thanks people, really, I mean it. In internet years I'm approximately 188 years old. But I've only been on line about 140 of those years. So, let's say I got on line when I was 12 or so. Yeah, let's go with that.
The Electronic Literature Organization retrospective focuses on relatively recent work, from 2005 from the present, including:
The Cape (2005)
Entre Ville (2006)
in absentia (2008)
CityFish (2010)
Along the Briny Beach (2011)
STRUTS (2011)
TRANS.MISSION [A.DIALOGUE] (2011)
For a bit of perspective, I've dug out some odds and ends from my early years online – some of it about my work, some of it about the work of other artists or organizations, some of it dating from before the visual web, some of it embarrassing to me now, but… what the heck.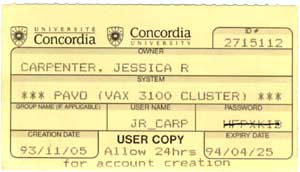 ID card for internet account in Concrordia's PAVO Lab.
Fishes & Flying Things (first web-based project, made at the The Banff Centre in 1995)
A Little Talk About Reproduction (drafted as an artist's talk presented at Studio XX 1998, reworked various times over the years)
A brief history of the Internet as I know it so far (written in 2002 or so, published in Fishpiss in 2003)
"Digital Crustaceans v.0.2: Homesteading on the Web," Ingrid Bachmann, Gallery Articule, Main Gallery, Montréal, Québec, April 4 – May 4 2003. (art review, published in Fuse in 2004)
Bi-Coastal (short story based on the 3-year stint I spent working undercover in corporate web development)
Getting in on the Ground Floor: A Hazy History of How and Why We Banded Together (written for xxxboîte, an artifact produced in celebration of the first ten years of Studio XX, Montréal, QC, October 2007)
The Cape: The Backstory (about how incredibly long it took me to make The Cape).
Some days it doesn't seem possible that I've been working on line going on twenty years. Many, many thanks to the curators Dene Grigar & Sandy Baldwin for noticing.
Electrifying Literature: Affordances and Constraints