Literary types of all stripes will invade SappyFest this year. Thursday, July 30, I'll pack a suitcase full of zines and novels and join the migration eastward.
SappyFest is a little independent music festival produced annually in partnership with the Ok.Quoi?! Contemporary Arts Festival, Struts Gallery & Faucet Media Arts Centre. The festival takes place July 31 – August 2, 2009, in Sackville, New Brunswick, the centre of the universe.
If you happen to be in the centre of the universe that weekend, come visit me at the Zine Fair, Saturday August 1, 12 to 4 PM at the United Church. There will be participants from across Canada, a kids workshop, a presentation by Andy Brown (Conundrum Press) and readings by Jeffrey Makie, Jaime Forsthythe and Dawn-Aeron Wason.
Sunday, August 2, 11:00 AM to 1:00 PM, check out the The Vogue Writers Block, a multi-media event at The Vogue Theater (Sackville's art deco movie theater) featuring The Joe, Catherine Kidd, J.R. Carpenter, Lezlie Lowe, Andrea Dorfman, Ian Roy, and Thesis. I'll reading a section of my novel, Words the Dog Knows, that traverses three different electronic literature projects (How I Loved the Broken Things of Rome, Entre Ville, and in absentia).
Now a registered non-profit organization, SappyFest Incorporated, the festival was founded in 2006 by the good people of Sappy Records, Julie Doiron, Jon Claytor and Paul Henderson.
Ok.Quoi?! is an interdisciplinary festival of contemporary art, focusing on video, audio, new and independent music produced by Struts Gallery & Faucet Media Arts Centre in partnership with SappyFest. The works of over 50 artists will be presented over 6 days in a variety of screenings, installations, concerts, broadcasts and performances. Alongside exciting international and national work, Ok.Quoi?! features new and innovative projects from local and regional artists. All events save for the Last Chance for Summer Romance concert and barbecue are free, and open to all ages.
More info: SappyFest & Ok.Quoi?!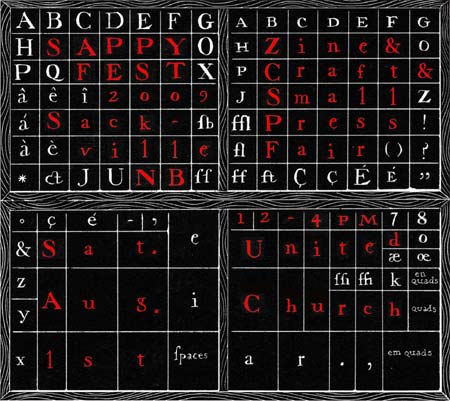 . . . . .