Next week I will present in absentia at the 5th edition of the E-Poetry Festival, which will take place in Barcelona May 24th-27, 2009. Artistic and academic events will take place at key Barcelona venues such as the the University of Barcelona, the Barcelona Center for Contemporary Culture (CCCB) and the Caixaforum, providing authors the opportunity to present their works to a public curious about new poetry and artistic trends employing technology and communication during the Setmana de la Poesia.
The event is organized by UOC's research group Hermeneia, with the collaboration of Electronic Poetry Center (University of Buffalo) and the Laboratoire Paragraph (Univ. Paris VIII). Keynote speakers will include Roberto Simanowski (Brown University) and Jean Clément (Université Paris 8).
E-Poetry is an international biennial conference and festival of digital poetry. It is the most significant digital literary gathering in the field, bringing together an impressive roster of Electronic Literature's most influential practitioners from around the world. Authors and researchers will present the latest research and the newest, most important works of electronic literature will be presented. Presenting at E-Poetry will bring my work to the attention of an influential international audience of critics, academics, practitioners and the public.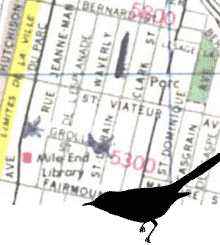 For more information or to register, please visit: http://www.e-poetry2009.com/
in absentia is a web-based project that uses fiction, digital images, historical maps HTML, javascript and the Google Maps API to address issues of gentrification and its erasures in the Mile End neighbourhood of Montreal. The result is an interactive non-linear narrative map of interconnected "postcard" stories written from the point of view of former tenants of Mile End. In recent years many long-time low-income immigrant and elderly neighbours have been forced out of their homes by economic decisions made in their absence. The neighbourhood is haunted now, with their stories. Our stories. My building was sold during the production of in absentia. Faced with imminent eviction I began to write as if I was no longer here, about a Mile End that is no longer here. The Mile End depicted in in absentia is a slightly fantastical world, a shared memory of the neighbourhood as it never really was but as it could have been. The sterile and slightly sinister "developer's-eye-view" of the neighbourhood offered by Google Maps satellite imaging has been populated with stories, interrupted with silhouette voids, intimate traces of the sudden disappearances of characters (fictional or otherwise) from the places (real or imagined) where they once lived.
At E-Poetry I will present the piece by giving a brief contextual overview of the work and then read aloud from a number of the stories contained in the work.
. . . . .