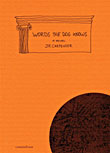 Words the Dog Knows
J. R. Carpenter
Conundrum Press
Montreal, Fall 2008.
PURCHASE ONLINE

WORDS IN THE PRESS

Words Dogs Know
Excerpt, GEIST #71, January 2009.

Virtual wordsmith
J. R. Carpenter named Montreal Mirror Noisemaker 2009, January 2009.

Good Dog
Review, Globe & Mail, January 8, 2009.

He Likes To Read Books Written For Girls
Review, Broken Pencil #42, January 2009.

A Carpenter and a Holton Walk into the Gladstone Hotel... Interview on Open Book Toronto, November 2008.
Words the Dog Knows named Best English Book, Expozine Alternative Press Awards Gala, March 3, 2009
"With fluid, unpretentious prose scattered with humour, Carpenter imparts wisdom about daily life – sometimes between the lines – in this picturesque and gentle novel."
Expozine Alternative Press Awards English Book Jury
J. R. Carpenter's long-awaited first novel Words the Dog Knows follows the crisscrossing paths of a quirky cast of characters through the Mile End neighbourhood of Montreal. Simone couldn't wait to get out of rural Nova Scotia. In Montreal she buries her head in books about far off places. Her best friend Julie gets her a job in the corporate world. Traveling for business cures Simone of her restlessness. One summer Julie's dog Mingus introduces Simone to Theo. They move in together. Theo is a man of few words. Until he and Simone get a dog, that is. They set about training Isaac the Wonder Dog to: sit, come, stay. Meanwhile, he has fifty girlfriends to keep track of and a master plan for the rearrangement of every stick in every alleyway in Mile End. He introduces Theo and Simone to their neighbours. He trains them to see the jumbled intimacy of Mile End's back alleyways with the immediacy of a dog's-eye-view.

Carpenter writes with humour and directness, melding the emotional precision of her award-winning short fiction with the narrative ingenuity of her pioneering works in electronic literature. The result is a fresh and accessible first novel written and illustrated in the vernacular of the neighbourhood. Cooking smells, noisy neighbours and laundry lines criss-cross the alleyway one sentence at a time.

Words the Dog Knows isn't a story about a dog. It's a story because of a dog. Walking with their dog though the same back alleyways day after day, Theo and Simone come to see their neighbourhood - and each other - in a whole new way.

"J.R. Carpenter writes love songs for friends of dogs and survivors of childhood. A true artist of the sentence, her observations about love in all its human and animal guises are both profound and hilarious. The music of Words the Dog Knows is extraordinary — open to any page of this moving, deeply funny novel and you'll see what I'm talking about."


— Karen Russell, author of St. Lucy's Home for Girls Raised by Wolves
"This is a story about a girl from a farm who reads, who becomes a woman from the city who writes. Words broker worldviews and relationships throughout. Language moves like two separate yet entwined themes in a piece of music — one for the narrator's inside world, and one for the outside world she engages with — towards a harmony of lyricism and dramatic storytelling. With the help of the neighbourhood, and the dog, of course."


— Michael Boyce, author of Monkey
"J.R. Carpenter is an artist who illuminates us with her uniquely quirky sense of perception and play. Where we see dumb objects and hear nothing but silence, she reveals wit and sprightly language. Be sure, the dog knows way more words than sit and roll over."


— Jason Camlot, author of The Debaucher


Excerpt from Words the Dog Knows:
I never had a dog as a kid, which is surprising considering I grew up on a farm. We had every other kind of animal. Ninety head of cattle to keep the one bull busy. A pen of pigs to keep the one we'd eat company. A roost of free-range chickens run ragged by a mean white rooster. A hutch of show rabbits not good for much of anything. And thirty-five hives of honeybees - white wooden worlds unto themselves - each one run by a queen.

I had a housecat named Feather of the Fairies. Children below a certain age should not be granted the power to name. The barn had its own cats. They kept their own company, lived according to laws unknown to us, and came and went and fed and bred and killed in anonymity.

We had a horse named Red, even though he was brown. Red decided how fast or slow he'd go by the weight of his rider. The heavier you were the faster he went. My mother was barely five feet tall. But according to Red she weighed plenty. No sooner was she settled in the saddle than he was off and running. Splashing through the shallows of the cattle pond, up the slope to the rock wall, along its length to the northwest fence, and down again for a victory lap around the first pasture. Unable to rein in his canter, my mother did her best to avoid Red altogether.

My father was six-foot-two at least, and solid as a cast-iron skillet. He rode Red to a froth. The two of them lived for round-up. There were other dairy farms nearby, much larger than ours. Most ran round-up with dogs. On our stretch of the Sloane Road alone there must have been fifteen herding and hunting dogs. And that's not counting over at the Doyle place where they kept a pack of sled dogs, twenty-four or more, chained all seasons. Their howled chorus blew our way on the same south-easterlies that made the power lines whine. It's not that I wanted a dog. It's that I was surrounded by something that was missing.



J. R. Carpenter, Words the Dog Knows, Conundrum Press, 2008
PURCHASE ONLINE