Earlier in June I presented at a conference called "It must be Nova Scotia:" Negotiating Place in the Writings of Elizabeth Bishop, held at University of King's College, Halifax, Nova Scotia June 10-12, 2011.
My paper examined instances in the writings of Elizabeth Bishop wherein coastlines are evoked in order to refer to a psychological subjective state – conscious or unconscious – of being on the threshold between places.
In her poem, "The Moose," Bishop writes a coastline of extreme contrasts to evoke the liminal condition of migration, of being in transition, of being of and in-between places, on a long bus ride along a coastal road stretching between home and away:
home of the long tides
where the bay leaves the sea
twice a day and takes
the herrings long rides,

where if the river
enters or retreats
in a wall of brown foam
depends on if it meets
the bay coming in,
the bay not at home;

where, silted red,
sometimes the sun sets
facing a red sea,
and others, veins the flats'
lavender, rich mud
in burning rivulets
A red sea. Mud flats. Lavender water. Bishop uses strikingly similar language to describe a nearby coastline in her short story, In the Village:
There are the tops of all the elm trees in the village and there, beyond them, the long green marshes, so fresh, so salt. Then the Minas Basin, with the tide halfway in or out, the wet red mud glazed with sky blue until it meets the creeping lavender-red water…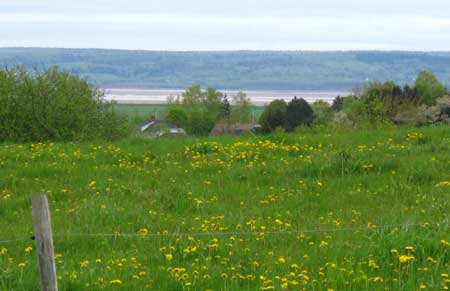 The site of this sight is geographically the furthest point from the epicentre of the story. The evocation of estuarine overlaps, mixtures and contradictions at this moment serves both to enunciate an internal emotional confusion within the narrator, and to project the narration beyond the geographical confines of the village.
We are in the "Maritimes" but all that means is that we live by the sea.
This liminal coastline writes a possible future, a point of departure, a line of flight. If all being "in the Maritimes" means is living by the sea then one can be in or from the Maritimes living by any sea. Indeed, Bishop wrote In the Village in Brazil, a place that reminded her of Nova Scotia but, importantly, most certainly was not.
I grew up in Nova Scotia. I left twenty-one years ago. I live in England now, which reminds me of Nova Scotia, but, importantly, most certainly is not. It was both delightful and terrifying to return to "narrow provinces / of fish and bread and tea" to present an academic paper to a conference of specialists. Good for the confidence, to have it come out well in the end.
For more information about the conference, view the program.