2007 was a great year for reading. It started off at Yaddo where for six weeks I dined every evening in the Yaddo Authors Library. It was sometimes difficult to follow the thread of so many different dinner conversations going on at once between so many brilliant writers, painters, film and video makers and composers. Not least of all because we were surrounded on four sides by floor to ceiling shelves of books of Yaddo authors past and present dating back a hundred years. These humbling and motivating surroundings enabled a frenzied period of writing and reading impossible to sustain in the outside world.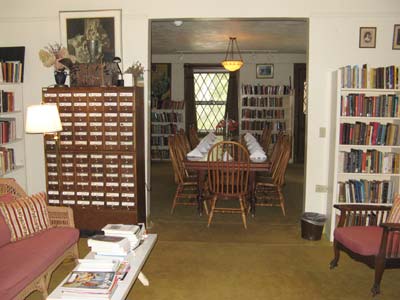 Over the course of the spring I had occasion to travel to New York, Boston, Montpellier and Toronto for various different reason reasons. These cities are home to some of my favourite bookstores so I stocked up. In New York, in additions to the prerequisite trips to the Strand, a friend in publishing snuck me into his place of employ to peruse their impressive book room. I made out like a bandit. Bliss. In Boston/Cambridge the MIT Press bookstore and the Harvard Co-Op are favourites, in Montpellier Rivendale is an old friend and in Toronto, though Type is new and exciting, Pages can't be beat.
I don't know what they're talking about in the media when they say: summer reading. It was a long hot slow loud disruptive unproductive and generally aggravating summer chez nous. There were lots of days when I couldn't work at all. My idea of "not working" is reading. Does that count as summer reading? When there's too much heat, humidity, construction and/or neighbour noise to read, I go for a walk. My idea of going for a walk is walking to the bookstore. One of the highlights of the summer was the move of S. W. Welch bookseller from the Main up into Mile End. If you're trying to find me and I'm not home, look for me there: 225 Saint-Viateur West.
I also bought lots of new books in the fall on account of every single person I know in Montreal came out with a new book. For a few weeks in September/October there were launches and/or a readings 3, 4, even 5 nights a week. Happily, many of these events happened in bookstores. Nothing I love more than a bookstore jam-packed with people buying books and drinking booze. Some new favourite bookstores: Port de Tête Bookstore at 262 Mount-Royal Avenue East and the Drawn & Quarterly bookstore at 211 Bernard West.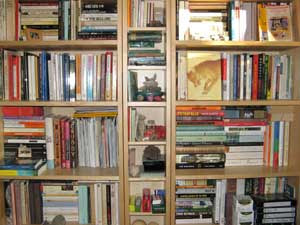 The fall brought some exciting new writing projects my way. Each shifts the direction of my reading slightly. For "Tributaries & Text-Fed Streams" I am brushing up on my hypertext theory. For "in absentia" I'm delving into short French fiction. And I continue to be obsessed with very short English fiction. I'm happy to report that I'm working on a collection with Conundrum Press for fall 2008. So in addition to all this reading, I'd better get some writing done too!
. . . . .