I'll be performing my web-based computer-generated narrative Notes on the Voyage of Owl and Girl at the British Library Thursday 5 February 6-8:30 PM, as part of Trapped in the Ice, Frozen in Time, an evening of performances and talks hosted by the British Library's Interactive Fiction Writer-in-Residence Rob Sherman.
The event will feature Rob Sherman exploring themes arising from his research into the Franklin expedition of 1845-6, Nancy Campbell (artist and writer, whose latest book ITOQQIPPOQ is included in the exhibition Lines in the Ice: Seeking the Northwest Passage on now at the British Library), and novelist Kate Pullinger.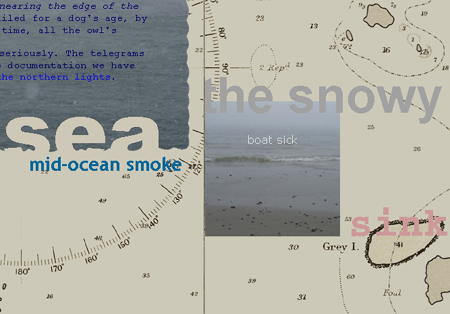 The event is free, but booking is required. For more information: Trapped in the Ice, Frozen in Time
Notes on the Voyage of Owl and Girl is a work of fiction. Any resemblances to actual events, locals, persons or texts are entirely intentional. These notes conflate and confabulate characters, facts, and forms of narrative accounts of sea voyages into the unknown North undertaken over the past 2340 years or so. The ever-shifting computer-generated portion of this narrative is composed from fragments of stories of fanciful, fluid, and quite possibly fictional floating places described or imagined in such diverse works as Tacitus, Agricola (97-98), Hakluyt, Voyages and Discoveries (1589–1600), and Eugene Field, Wynken, Blynken and Nod (1889). The characters of Owl and Girl are borrowed from Edward Leer's Victorian nonsense poem, The Owl and the Pussy Cat (1871). In my version, a girl most serious, most adventurous, most determined and her lazy friend the owl set out, set sail, sail away toward a strange sea in a boat, craft, raft of pea-, bottle-, lima-bean- or similar shade of green. The cartographic collage they voyage through is a confusion of islands and soundings from Scotia Bay and the South Orkney Islands (1967), and my own photographs from Nova Scotia (2008-2011). Of the horizontally scrolling texts which annotate this mythical, implausible, impossible voyage toward seas unknown, the northern lights, the fountain of youth, the text in grey which begins "7 May: departed from Dartmouth" is an erasure poem based on The second voyage attempted by Mr John Davis with others, for the discovery of the Northwest Passage (1586). The Morse Code quotes a line from a Peter Høeg novel. All the other notes are composed by me. By me, of course, I mean the girl.