An account of the making of STRUTS, a recent work of digital literature commissioned for SFMoMA, has been added to Judy Malloy's fantastic online new media writing resource, Authoring Software.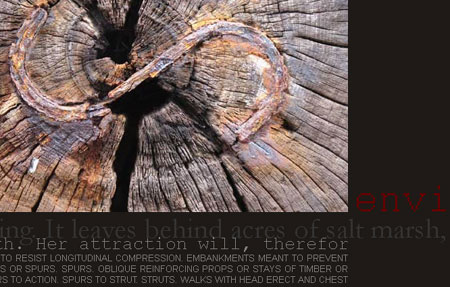 Pictured above: screenshot detail from STRUTS, a a rhythmic algorithmic computationally composed text collage created from a collection of fragments of facts and fictions pertaining to the Tantramar region of New Brunswick. (Canada) Read about the making of STRUTS on Authoring Software.
Begun in conjunction with the 2008 Electronic Literature Organization Conference, which took place in Vancouver, Washington, Authoring Software has become, in Malloy's words:
A resource for teachers and students of new media writing, who are exploring what authoring tools to use, for new media writers and poets, who are interested in how their colleagues approach their work, and for readers, who want to understand how new media writers and poets create their work, the Authoring Software project is an ongoing collection of statements about authoring tools and software. It also looks at the relationship between interface and content in new media writing and at how the innovative use of authoring tools and the creation of new authoring tools have expanded digital writing/hypertext writing/net narrative practice in this vibrant contemporary creative writing field.
Judy Malloy is a pioneering new media poet, editor and arts writer. She began working toward hypertextual narrative in the 1970's, creating experimental artist books in card catalogue and electro-mechanical structures. In 1986 she wrote and programmed the germinal hyperfiction Uncle Roger. She has been working in the field of computer-mediated literature for 25 years. In that time she has seen many authoring softwares come and go.
More information about Judy Malloy may be found on Authoring Software and on her website.
More information about Authoring Software
My contributions to Authoring Software: STRUTS, Excerpts From the Chronicles of Pookie & JR, and Entre Ville