I am mourning the passing of my dear friend, collaborator, and mentor Daniel Dion. Daniel was a new media artist, and the co-founder and long-time co-director of Oboro Gallery and New Media Lab in Montreal. He died of cancer in Vancouver on Sunday 28 September 2014, surrounded by love.
Daniel has been an inspiration to me since the day we met – over eighteen years ago now. He gave me my first job out of art school. I was the website designer and computer technician at Oboro 1996-1997. We had one computer – a Quadra 650 – and I was in charge of it. Then Daniel bought another computer on his own credit card – a Power Mac 7100 – and TechnOboro, as we called the Oboro New Media Lab in those days, was born.
In those early days of what would become the rest of my life Daniel gave me confidence, and hope, and space, and time to work as an artist. For a number of years, Daniel, his long-time partner Su Schnee, their old friend Hank Bull, and I collaborated on a series of multi-site performances using video phones. One was between Montreal and Tokyo. Even more mind-boggling to me now than the video phones part, or even the Tokyo part, is how open such long-time friends and collaborators were to inviting a young person in.
One winter Su and Daniel invited me to the chalet of another friend of theirs in the Laurentians. On our way there, the car went into a ditch. But it was a small car, so we all got out and lifted it onto the road again. This now seems emblematic of the way Daniel approached problems great and small, but maybe I'm reading too much into things.
In 2005 I returned to Oboro as an artist-in-residence at the New Media Lab. One day I asked Daniel if he would go for a beer with me, outside the building. We made it to a bar a whole block and a half away. He laughed, said people didn't often ask him to leave the building. Why didn't we all ask him out for beer all the time? Because he and Su were always inviting us in.
In 2006 Daniel commissioned me to make a new work for the 50th anniversary of the Conseil des arts de Montreal. Why me? There were way bigger better known names to choose from. Someone gives you a chance like that you try to do your very best. The work I made – Entre Ville – has since been shown and taught widely. I don't know if Daniel ever knew that, thanks to him, students around the world have caught glimpses of the secret life of Montreal's back yards and alleyways.
Daniel saw potential where others saw none, he had patience where I for one would not have. He had great faith in people, put trust in people. He had vision. Never have I met a more gentle, less cynical soul. Yet never have I met a greater leader. He led with strength rather than power. He practiced and did not preach. Transparency. Honesty. Peace.
From 2006-2010 I served as president of the board of directors of Oboro. The whole time I felt I got more than I gave. I left the board when I left Montreal. For the past five years I have missed Daniel and the whole Oboro family keenly. Yes, family.
Earlier this month my partner and I spent two weeks in Montreal. We attended the first Oboro opening of the season. It was exquisite to be in the proximity of loved ones again. It turns out I can't write anything more present tense than that at this moment in time except to say that my heart is with you all right now, around the big table.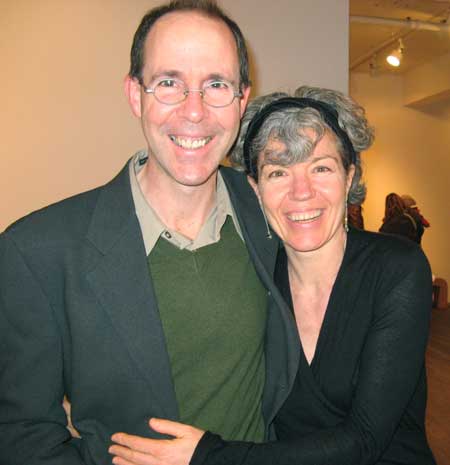 Daniel Dion et Su Schnee, Oboro, 2007.
For information on memorial services, visit the Oboro Website.