Part slumber party, part jungle party, WILD PARTY goes on 24/7 in a bedroom in an 18th c country house in South Devon, England. The kettle is always on in this wilderness of laptops, iPods, data projectors, bad puns, random theories, tea trivia, tea lights, throw pillows, paper cut-outs and painted plywood trees. Drop in on a fiction writer in stripy dressing gown, a teenager in a wolf suit, a butler in track pants, a stuffed cow in a plush coat and a panda in a bikini for a cup of Wild Berry Tea.
J. R. Carpenter, Aphra Kennedy Fletcher, Jerome Fletcher, Mooey and Panda, with guest appearances from Couch Potato (who is basically a potato) and The Zebra Socks, will broadcast one hour of their ongoing WILD PARTY live via Skype from Sharpham House, South Devon, England, to Centre A, 2 West Hastings St., Vancouver, British Columbia, Canada, February 13, 1400 PST / 2200 GMT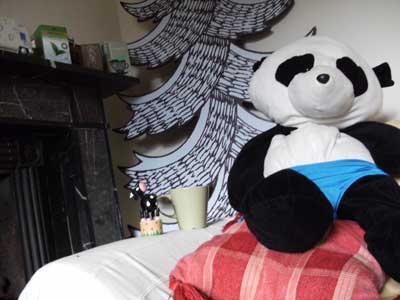 WILD PARTY is part of WORLD TEA PARTY
Celebrations of global Tea Culture
Presented by Centre A
February 12-28 & March 12-21, 2010
Gallery Hours: 2:00 pm – 10:00 pm
Free admission before 6:00pm
Opening Reception: Friday, February 12, 7:00 pm
Centre A is pleased to present World Tea Party, animated by lead-artist Brian Mulvihill (aka Trolley Bus), one of the world's leading tea masters and calligraphers based in Vancouver. Mulvihill is producing a special Olympiad edition of The World Tea Party.
Previous versions have been presented for large publics at the Winnipeg Pan Am Games, the Venice Biennale, the National Gallery of Canada, the Hollywood Bowl, the Eiffel Tower and other venues. The project is based on the notion that humanity shares in the drinking of tea a spirit of generosity and understanding that both celebrates and transcends our cultural diversity. Tea is the most common beverage in the world community.
The World Tea Party is a "social sculpture" that involves the creative empowerment of the audience and the general public. Its interactive aspect makes the World Tea Party an effective vehicle for a debate about the relationship between the Olympics and the Downtown Eastside.
Free Tea and Large Scale Video Projections
During gallery hours, tea is offered for free, both inside the gallery and at times on the street, while video projections are shown on the building's exterior windows daily from 6:00 pm to 10:00 pm.
Two 5,000 lumen video projectors will be used to project images 40 feet wide across the front windows of the gallery. Content will include works by commissioned artists, live images of performances, pre-recorded tea images, documentation of the World Tea Party in different contexts
Special Events
The World Tea Party features a number of special events, including Skwxumesh First Nations artist Cease Wyss, who will host a First Nations welcome event on Sunday, February 14, featuring indigenous herbal teas. On Saturday, February 20, Jun Oenoki, who is Associate Professor, Communication Studies, Tokyo Keizai University and artist-in-residence at Centre A, will produce a teleconference with partners in Yokohama which will be streamed live to the Internet and edited for outdoor display. The traditional Japanese tea ceremony is presented by the Urasenke society of Vancouver. The relaxed atmosphere of the World Tea Party invites conversation and informal performances. New additions to the line-up will be posted to the website.
Local Network – "Bright Light" partnership of 10 DTES arts groups
World Tea Party is key station in the City of Vancouver's Olympic and Paralympic Public Art Program: Bright Light, an initiative that provides pedestrian friendly light-based public art works, projections and performances along Carrall Street, Hastings Street and in the neighbouring area. The project brings together a consortium of 14 creative partners, including Access, Helen Pitt, Downtown East Cultural Centre, Artspeak, LIVE, UBC Architecture and others. Centre A acts as a hub and meeting place for Bright Light.
Come have a cup of tea!
Please see these websites for complete event schedule:
www.worldteaparty.com
www.centrea.org
http://bright-light.ca/
. . . . .