STRUTS is a new work of digital literature commissioned for the San Francisco Museum of Modern Art. This commission is the latest in a series of new works featured on SFMoMA's Open Space blog, in an excellent column on digital literature by Brian Stefans called: Third Hand Plays. Since the start of the series in July 2011, works have been commissioned from Daniel C. Howe, Alan Bigelow, joerg piringer, Alison Clifford, Erik Loyer, Benjamin Moreno Ortiz, Jhave, Christine Wilks and Jason Nelson. Forthcoming are new works from David Clark and Brian Stefans. I'm thrilled to keep such fantastic company. STRUTS launched on September 15, 2011. Posts to Third Hand Plays will wrap up at the end of September but I suspect the column with enjoy a long afterlife as an accessible, resource-full and fully engaged set of commentaries, concepts and links and resources of interest to digital literature practitioners and newcomers alike.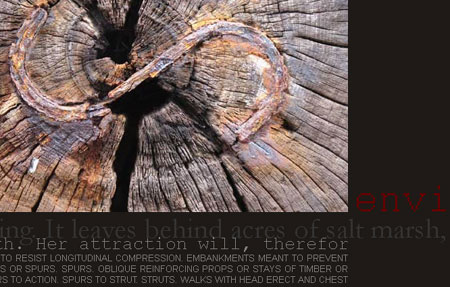 STRUTS is an algorithmic collage created from a collection of fragments of facts and fictions pertaining to a place and its people, history, geography and storm events. Narrative resonates in the spaces between the texts horizontally scrolling across the screen, the flickering updating of monthly tide gauge averages, the occasional appearance of live weather weather warnings pulled in by RSS feed and the animated set of photographs of the ends of the struts that support the seawall that protects the foreshore in front of Linda Rae Dornan's cottage from the rising tides of the Northumberland Strait. The photographs were taken on May 23, 2011 the second day of a five-week stint as Open Studio Artist in Residence at Struts Gallery and Faucet Media Lab, Sackville, New Brunswick, Canada, May 22 – June 26, 2011.
STRUTS. STRUCTURAL MEMBERS, AS IN TRUSSES, PRIMARILY INTENDED TO RESIST LONGITUDINAL COMPRESSION. EMBANKMENTS MEANT TO PREVENT EROSION OF SHORELINES. BRACE OR SUPPORT BY MEANS OF STRUTS OR SPURS. SPURS. OBLIQUE REINFORCING PROPS OR STAYS OF TIMBER OR MASONRY. ON THE SPUR OF THE MOMENT. ON IMPULSE. SPURS TO ACTION. STRUTS. WALKS WITH HEAD ERECT AND CHEST THROWN OUT, AS IF EXPECTING TO IMPRESS OBSERVERS. WITH PROUD BEARING. PARADES, FLOURISHES. STRUTS AND SWAGGERS. STRUTS GALLERY. SUPPORTS BY MEANS OF STRUTS. STRUCTURAL MEMBERS SPUR STRUTS TO ART ACTION. WALKS WITH HEAD ERECT ALONG LONGITUDINAL EMBANKMENTS. SEAWALLS BRACED BY SPURS. STAYS. PREVENT EROSION. OF MOMENTS. OBLIQUELY.
[an excerpt from STRUTS, by J. R. Carpenter, commissioned for SFMoMA, launched September 15, 2011.]