Since defending my PhD thesis last month a number of kind, optimistic people have asked if it will be published. All of the creative and most of the critical practice-led research outcomes have already been published, performed, or presented in some way. The website containing links to all of the supporting materials referenced in the thesis is online here: http://writingcoastlines.net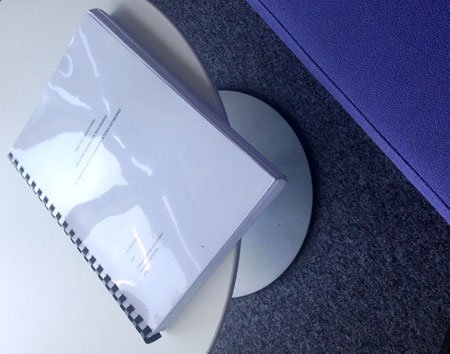 [ it's hard to take an attractive photo of a PhD thesis]
The thesis itself is broad and overtly interdisciplinary in scope. I have some thinking to do about what kind of press to approach with this strange mix of theory and practice, print and digital, technology and literature, cartography and narrative. I'm certainly open to suggestions.
In the meantime, I would like to begin by publishing the last and possibly best page first. Here then is page 437 – the acknowledgements:
This research has been generously supported by a full studentship from Falmouth University and by the Research Network of the University of the Arts London. I am indebted to the patience, pragmatism, and great good sense of my Director of Studies Doctor Phil Stenton. Many thanks also to Falmouth University Research Student Officer Jemma Julian, and Postgraduate Research Student Foundation Programme Director Doctor John Hall.
Aspects of this research have been furthered by engagement with individuals and events associated with the following organisations:
Alberta College of Art and Design, Arnolfini, Dartington College of Art, The Banff Centre, Electronic Literature as a Model for Creativity in Practice, Electronic Literature Organization, E-Poetry, Inspace, Labex Arts H2H, Obx Labs, The Sharpham Trust, and Struts Gallery & Faucet Media Arts Centre.
The following archives and collections have been a delight to spend time in:
British Library – Maps, Manuscripts
Bodleian Library – Maps, Marconi Archive, Strachey Papers
Cambridge Library, Kings College – Turing Papers
The Telegraph Museum Archives
The following are but a few of the many friends and colleagues who have (often unwittingly) asked good questions, answered questions thoughtfully, led by example, lent logistical support, recommended readings, offered invaluable words of encouragement, or in other ways inspired me over the past four years:
Annie Abrahams, Celia Bannerman, Sandra Barry, Elisabeth Belliveau, Kathi Inman Berens, Sam Bleakly, Philippe Bootz, Laura Borràs, Barbara Bridger, Serge Boucherdon, Jason Camlot, Andy Campbell, cris cheek, Rod Coover, Sym Corrigan, Mark Daniels, Yra van Dijk, Linda Rae Dornan, Lori Emerson, Markku Eskelinen, Chris Funkhouser, Alison Gibb, Tom Harper, Carla Harryman, Mervyn Heard, Rozalie Hirs, Susan Hitch, Peter Jaeger, Mark Jeffery, Alice van der Klei, Edward Klein, Daniel Takeshi Krause, Jean-Jacques Lecercle, Kurtis Lesik, Donna Leishman, Jason Lewis, Mary Loveday-Edwards, Caden Lovelace, Judy Malloy, Netwurker Mez, Nick Montfort, Judd Morrissey, Stuart Moulthrop, Camilla Nelson, Jussi Parrika, Maggie Pitts, James Purdon, a.rawlings, Arnaud Regnauld, Scott Rettberg, Ariane Savoie, Alexandra Saemmer, Jörgen Schäfer, Jeanie Sinclair, Steven Ross Smith, Lisa Somma, Brian Stefans, Sian Stenton, Stephanie Strickland, Neil "X" Thompson, Steve Tomasula, Fred Wahrus, Christine Wilks, and Nanette Wylde.
Finally, this research would not have been possible without the love, patience, curiosity, enthusiasm, good humour, bad jokes, beach walks, and total commitment of my two best friends – my husband Jerome Fletcher and my step-daughter Aphra Kennedy Fletcher. Thank you both.
J. R. Carpenter (2014) Writing Coastlines: Locating Narrative Resonance in Transatlantic Communications Networks, University of the Arts London, http://writingcoastlines.net