I have recently (and admittedly repeatedly) posted about my web-based story CityFish being shortlisted for The New Media Writing Prize 2012. Prior to the shortlist announcement, CityFish had been on my mind for other reasons. CityFish is set in New York City. As the below image indicates, there is a Google Map satellite view of Coney Island embed in CityFish which – for now – shows the beach, boardwalk, amusement park, and bordering residential neighbourhoods in pristine condition. As I hope most people are by now aware, the Coney Island neighbourhood was among those heavily damaged by Superstorm Sandy at the end of October 2012. It will take months if not years for these communities to recover, and just as long if not longer for Google's satellite images to be updated to reflect the effect of climate change on the eastern seaboard.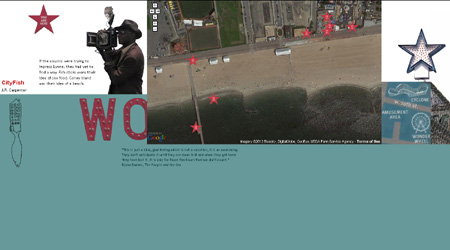 CityFish || J. R. Carpenter
Although CityFish is intrinsically about dissonance – between past and present, fact and fiction, home and away – I am not sure yet how to reconcile this new dissonance – between the lines of the story I wrote and the new lines of this coast. In particular, I am concerned with the harsh economic dissonance underlined by the response (or lack there of) by FEMA, the Red Cross, the New York City Housing Authority, the mainstream press, and the general public to those hardest hit by Sandy. According to this article by Daniel Marans posted to the Huffington Post yesterday, 12 November 2012 – Occupy Sandy Volunteer Sounds Alarm on 'Humanitarian Crisis,' Near-Complete Absence of Government Aid in Coney Island Projects – 30-40 public housing buildings in the Coney Island neighborhood of Brooklyn remain without power, and often without water and necessities in the wake of Hurricane Sandy. Accounts of these conditions have been corroborated in the New York Daily News (5 November 2012).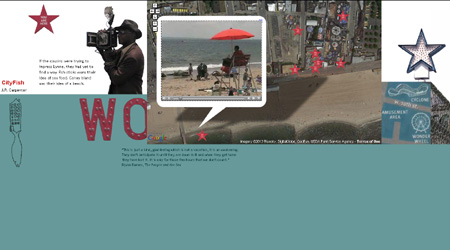 CityFish || J. R. Carpenter
I relate these concerns out of love for and frustration with the city that half raised me, and half made me crazy, a city that – for as long as I've known it – has been sharply divided between have and not. It is my understanding, on the basis of the 21 hours or so a day I spend on Twitter, that the #ocupysandy movement is doing great things on the ground in Coney Island, Red Hook, the Rockaways, and other hard-hit coastal neighbourhoods of New York City. To donate to the Occupy Sandy relief effort, visit OccupySandy.org