On 93/11/05, in the PAVO lab at Concordia University in Montreal, I logged onto the internet for the first time. My user name was JR_CARP. I remember these details because I still have the ID card from that first account. After a few months of writing fictional posts to alt.arts.nomad and other USNET groups I got a UNIX account and dove into the wonderful worlds of Telnet, Archie, Gopher, FTP, Purple Crayon, LambdaMOO, c-theory, ALT-X, and so on. The rest, as they say, is a syslog file.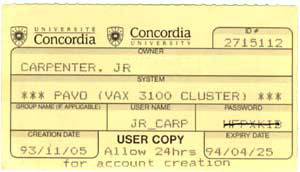 I've written about those way back times a number of times in a number of ways over the past twenty years. Here links to a few essays which are still online which I'm not too embarrassed about:
A Little Talk About Reproduction 1997
A Brief History of the Internet as I know it So Far 2003
Getting in on the Ground Floor: A Hazy History of How and Why We Banded Together 2007
A Non-Linear Time Line of 20 Years Online 2013
Collaborations are underway toward marking this anniversary. Berlin-based art critic and code-poet Elvia Wilk is currently slogging through the audio archive of an interview we did in London in October. And I am chipping away at answering questions posed by writer and researcher Andrea Zeffiro for what we're calling an Object Oriented Interview for the Media Archaeology Lab in Boulder, Colorado.
In the meantime, here is a video interview the brilliant and delightful code-poet philosopher David Jhave Johnston did with me at The Banff Centre in 2012, for the series CAPTA: Conversations with poets about technology, in which, there is much discussion of the olden days of internet of yore.