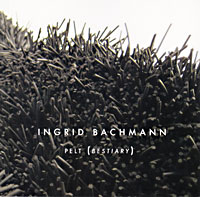 Earlier this year I wrote a wee catalogue essay on Montreal-based installation artist Ingrid Bachmann's work Pelt (Bestiary), which opened on April 13, 2012 at the Galerie Materia in Quebec City, Quebec, Canada. It was the opening show of the Quebec Art Biennale – "Manifestation internationale d'art de Québec" – Manif d'art 6, curated by Nicole Gingras, which officially opened May 3, 2012.
Copies of this gem of a catalogue arrived by post this morning. Here are the opening lines from my text:
I have seen Ingrid Bachmann stick electrodes into potatoes to see what sounds they make, and then stick them into into apples to compare notes.

The harmonic frequencies of fruits and vegetables, the private lives of hermit crabs, the stories we tell, the lies, the sublime secrets suitcases hold, the music used shoes make… Such is the breadth of her curiosity. Electric is her line of inquiry. Direct is her approach.

Much of Bachmann's work with technology has been aimed at demystifying it, humanizing it, stripping it down to its essentials, and then hanging stories on those bare bones. She has used bits of yarn to map the internet's under-sea cables, harnessed the computer loom to "print" seismic activity, offered giant knitting needles as a user-computer interface.

It is through this material sensibility that we must approach this new work.
And here is video documentation of Pelt (Bestiary).