The launch of my debut poetry collection will take place at the British Library in London on Friday 27 April 2018, 19:30. Join us for an evening of digital projection, live performance, and a conversation with Peter Jaeger. The event is hosted by Penned in the Margins and the Eccles Centre for American Studies. It's FREE but booking is essential. RSVP now to reserve your place.
Published in paperback by the ever-excellent Penned in the Margins, with silver cover foiling and French flaps, An Ocean of Static, will be available for purchase 24 April 2018.
Pre-order 9-20 April for £9.99. (regular price £12)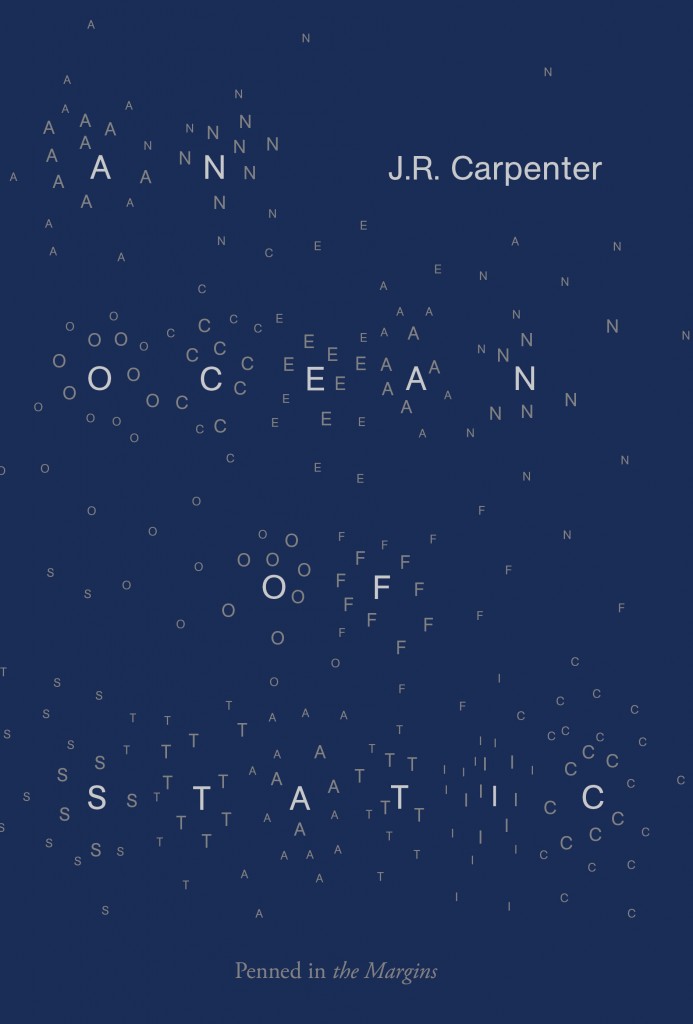 From the late 15th century onwards, a flurry of voyages were made into the North Atlantic in search of fish, the fabled Northwest Passage, and beyond into the territories purely imaginary. Today, this vast expanse is crisscrossed with ocean and wind currents, submarine cables and wireless signals, seabirds and passengers, static and cargo ships.
This book transforms the dense, fragmented archive of the North Atlantic into a sea of fresh new text.
What surfaces in An Ocean of Static are arrays of language, "arguments" that can be read as a chorus of subtle alternatives or sometimes like confused cries in a nautical crisis, along with records of journeys from centuries apart. J. R. Carpenter draws language through the icy passage of code's style, gripping the rigging with a performative voice developed in many presentations of this work. The book that results is in the ancient form of the cento (literally, a patchwork), but one that fits together like whole cloth, functioning as a sail, allowing air, human effort, and machinery to work together to carry us along.

–Nick Montfort, author of The Truelist
This book is made of other books. The poems in this book are composed of facts, fictions, fragments, and codes collected from accounts of voyages undertaken over the past 2,340 years or so, into the North Atlantic, in search of the Northwest Passage, and beyond, into territories purely imaginary. The poems in this book are intended to be read on the page and to serve as scripts for the live performance of a body of web-based works.
Portions of this work first appeared, often in very different forms, in a wide range of print, digital, and live performance contexts. A full list of links and references is available here.