The Quebec Writers Federation has invited me back to teach another Introduction to Electronic Literature workshop, same title as last year, but this time we'll have two days instead of one to explore and experiment with the reading, writing and performing of web-based electronic literature – very exciting as last year we had nowhere near enough time.
Two Saturdays, March 6 and March 13, 10:00am – 4:00pm
1200 Atwater Avenue., Room 2 (2nd-floor computer lab)
Registration information.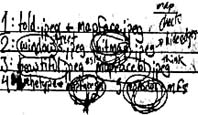 Electronic literature combines literary and new media practices, resulting in multi-media literary works that couldn't exist in print form. Consideration of technology at the level of the creation of the text distinguishes electronic literature from e-books, digitized versions of print works, web publishing and other products of print authors 'going digital,' none of which will be discussed in this workshop. Unbound by pages and the printed book, electronic literature moves freely across the web, through galleries, performance spaces, and museums, yet does not reside in any single medium or institution. Electronic literature often intersects with conceptual art, web art, performance and sound art, but the reading, writing and performance of electronic literature is situated within the literary arts.
This workshop will begin with a brief historical background of the genre, including a discussion of some of the pre-web literary forms that digital writing evolved from. We will focus on looking at, reading and understanding a wide range of electronic literature produced in various media over the past 20 years. I will show how some of these works were built, give an introduction to HTML, provide a number of web resources and tool for further investigation, then propose a number of ways for beginners to approach the web medium for the creation and dissemination of texts. In particular, we will look at ways to use existing Web 2.0 structures to create distributive literary works. Writing exercises will include: collectively creating a hypertext narrative, remixing Python story generators, writing 140-character stories in Twitter and plotting postcard stories in Google Maps. There will be some technical discussion and experimentation, but prior knowledge of web programming is not required.
This workshop is ideal for experienced writers interested in expanding their existing practices to include web-based forms of non-linear, interactive, intertextual and/or networked literature and media artists exploring textual practices in digital work. If participants have electronic literature projects in mind, we can discuss strategies for creating these works. Visual and new media artists who use are using text in their work and wish to learn more about the literary aspects of digital writing will also find this workshop useful, as will avid readers of experimental literature from Calvino to Borges, and anyone interested in audio/video mashup, performance, remix culture, etc., who wishes to learn about this exciting new hybrid, hypermedia genre.
A list of links to online resources, further technical resources and venues for reading and submitting electronic literature will be provided.
Two Saturdays, March 6 and March 13, 10:00 a.m. to 4:00 p.m.
1200 Atwater Avenue., Room 2 (2nd-floor computer lab)
Workshop leader: J.R. Carpenter
Visit the Quebec Writers Federation Website for Registration information: http://www.qwf.org/workshops/spring2010/carpenter.html
. . . . .