J.R. CARPENTER
Subscribe to Posts
Share on Facebook

INTRODUCTION

Electronic literature does not exist on paper. It exists on computers, on the internet, on CDs, DVDs and it can take the form of performances or installation. Electronic authors take advantage of many different kinds of digital technologies. Many works combine text with images, videos, sound, animation and programming.
N. Katherine Hayles - Electronic Literature: What Is It? surveys the development and current state of electronic literature, from the popularity of hypertext fiction in the 1980's to the present, focusing primarily on hypertext fiction, network fiction, interactive fiction, locative narratives, installation pieces, "codework," generative art and the Flash poem. It also discusses the central critical issues raised by electronic literature, pointing out that there is significant overlap with the print tradition.
Electronic literature is literature. It involves writing and story telling. Digital technologies have changed the way we create literature because they allow for new and different formats in which literature can happen. To understand this evolution, we will begin by looking at books.

Literary works that are often cited pre-cursors to hypertext:


Laurence Sterne, The Life and Opinions of Tristram Shandy, Gentleman, 1759

Edgar Lee Masters, The Spoon River Anthology, 1915

James Joyce, Ulysees, 1922

Jorge Luis Borges, Ficciones, NY: Grove Press, 1962.

Julio Cortázar, Hopscotch, 1963

Thomas Pynchon's Gravity's Rainbow, 1973

Douglas Adams's Hitchhiker's Guide to the Galaxy, 1979

Italo Calvino, If on a Winter's Night A Traveller, 1979

William Gibson's Neuromancer, 1984

Milorad Pavic. Dictionary of the Khazars: A Lexicon Novel in 100,000 Words, (English translation,1989)

Neal Stephenson's Snow Crash, 1993

Mark Z. Daznielewski, House of Leaves, 2000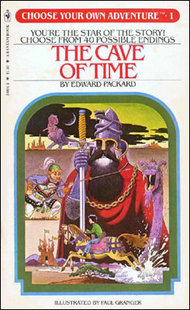 1978: Choose Your Own Adventure Books published by Bantam Books. "You're the star of the story! Choose from 37 Possible Endings.

2003: Joey Dubuc, Neither Either Nor Or, published by Conundrum Press. "Death awaits you at every intersection! Choose from 15 possible endings."

1976: Don Woods releases his version of Will Crowther's cave simulation Adventure, launching the genre of electronic text adventures.

2005: Nick Montfort, Book And Volume, interactive fiction.

Nick Montfort, Twisty Little Passages: An Approach to Interactive Fiction, Cambridge: MIT Press, 2003.

Many works of electronic literature refer to and/or resample earlier works of print literature.

REMIXOLOGY EXERCISE: Re-Mixing Gertrude Stein

The Original:

In the inside there is sleeping, in the outside there is reddening, in the morning there is meaning, in the evening there is feeling. In the evening there is feeling. In feeling anything is resting, in feeling, anything is mounting, in feeling there is resignation, in feeling there is recognition, in feeling there is recurrence and entirely mistaken there is pinching. All the standards have steamers and all the curtains have bed linen and all the yellow has discrimination and all the circle has circling. This makes sand.
One Re-Mix:

In the moon there is wholeness, in the tide there is reflection, in the shore there is solitude, in the cycle there is brilliance. In the cycle there is brilliance. In brilliance anything is rotating, in brilliance anything is spinning, in brilliance there is darkness, in brilliance there is confusion, in brilliance there is understanding and purely taken there is menstruating. All the movements have rhythms and all the fingers have fingerprints and all the sky has discrimination and all the tremble has trembling. This makes clarity.
Miller, Paul D., aka DJ Spooky That Subliminal Kid, Rhythm Science, Cambridge: MIT Press, 2004. CD Track 05: DJ Wally Zeta Reticulli mixed with Gertrude Stein If I Told Him: A Completed Portrait of Picasso

Gertrude Stein, "If I Told Him: A Completed Portrait of Picasso (1923)," in Picasso: The Complete Writings, Boston: Beacon Press, 1970

J. R. Carpenter - A Vocabulary of Thinking, from Gertrude Stein, How to Write



INTERNET HISTORY - PRE-WEB

Christopher T. Funkhouser, Prehistoric Digital Poetry: An Archaeology of Forms 1959-1995, Eds. Charles Bernstein and Hank Lazer, Tuscaloosa, AB: UP Alabama, 2007.

Stuart Moulthrop, A Subjective Chronology of Cybertext, Hypertext, and Electronic Writing

Vannevar Bush, As We May Think, The Atlantic [1945]
"The advanced arithmetical machines of the future will be electrical in nature, and they will perform at 100 times present speeds, or more. Moreover, they will be far more versatile than present commercial machines, so that they may readily be adapted for a wide variety of operations. They will be controlled by a control card or film, they will select their own data and manipulate it in accordance with the instructions thus inserted, they will perform complex arithmetical computations at exceedingly high speeds, and they will record results in such form as to be readily available for distribution or for later further manipulation. Such machines will have enormous appetites. One of them will take instructions and data from a whole roomful of girls armed with simple keyboard punches, and will deliver sheets of computed results every few minutes. There will always be plenty of things to compute in the detailed affairs of millions of people doing complicated things."
J. R. Carpenter - A Hazy History of How And Why We Banded Together
Performance and essay published in xxxboîte, an artifact produced in celebration of the first ten years of Studio XX, a bilingual feminist digital art centre for technological exploration, creation and critique founded in Montreal in 1996. The boîte contains a publication featuring new texts from Kim Sawchuk, Marie-Christiane Mathieu, Anna Friz, J.R.Carpenter, and Michelle Kasprzak; a DVD comprised of documentation of selected projects, presentations and events of the first ten years of programming at studioxx; and a limited edition print from Montréal based artist, beewoo.

J. R. Carpenter - A brief history of the Internet as I know it so far

Young-Hae Chang Heavy Industries - Traveling to Utopia: A Brief History of Technology

HYPERTEXT

J. R. Carpenter - Fishes & Flying Things [1995]
telling a circular story, didn't work within the confines of the book

J. R. Carpenter - Mythologies of Landforms and Little Girls [1996]
non-linear narrative

Maid in Cyberspace Festival - Studio XX [1997]

Juliet Martin - oooxxxooo [1997]

Jill Walker - A Child's Game Confused: reading Juliet Ann Martin's oooxxxooo, a hpertext essay about a hypertext work.

Olia Liliana - My Boyfriend Came Back From the War [1996]

Nick Montfort - The Purpling [2008]
recent hypertext published in Iowa Review Web

HTML EXERCISE: Re-Mix The Purpling
Result: The Blueing

FOUND FOOTAGE / COLLAGE

Arthur Lipsett, Very Nice Very Nice (1961)
Arthur Lipsett was an artist in the NFB animation studio who eventually started making live action films - but live action with a difference. Lipsett found the extraordinary in the ordinary. Much of the sound and imagery for his films was found in the trim bins of the NFB, the receptacles where one put one's outtakes. The sensibility is that of an animator - cut with extraordinary precision, not one frame too long or too short. Very Nice, Very Nice is composed with still images and is a wickedly funny and terrifying examination of modern life. Although made in 1961, it has not dated at all.

J. R. Carpenter - The Cape (2005)
All diagrams, mapas and images come from: Stephen P. Leatherman, Editor, Environmental Geologic Guide to Cape Cod National Seashore; Field Trip Guide Book for the Eastern Section of the Society of Economic Paleontologists & Mineralogists, National Park Service Cooperative Research Unit, University of Massachusetts, Amherst, Mass., 1979.

The Cape is included in Electronic Literature Collection Volume One

REMEDIATION / LITERARY FILMS

Rattapallax DVD (issue 15) is a fusion between contemporary writing and film. Featured on the DVD magazine are works by Antonello Faretta, Guilherme Marcondes, Taatske Pieterson, Julian Gray, Kylie Hibbert, Avi Dabach, Abbas Saffari, Caecilia Tripp, Eugene Ostashevsky, Ima Aikio & Jason Lam. Special features on Billy Collins, John Giorno Yehuda Amichai, and the death of William Burroughs; award winning animated short films based on poems by William Blake and Sylvia Plath; and a hip-hop rendition of Gertrude Stein's poems by Jean Grae and DJ Spooky. Showcase of the winners from the Zebra Poetry Film Festival in Berlin.

David Clark - Ulysses 101
Filmming took place on June 16, 2005 which was 101 years after the day that was the setting for James Joyce's Ulysses.

Donna Leishman - Red Riding Hood

VIDEO & PLACE

J. R. Carpenter - How I Loved the Broken Things of Rome

J. R. Carpenter - Entre Ville

Paula Levine - Shadows From Antother Place

19th Annual Images Festival Online Exhibition: Transposing Geographies: Mapping on the Internet

Julian Biggs, 23 Skidoo (1964)

GOOGLE MAPS

J. R. Carpenter - in absentia [2008]

Hacking the Google Maps API

J. R. Carpenter - Les huit quartiers du sommeil [2007]

Writing Exercise - putting your postcard stories on the map.

WEB 2.0 Web 2.0 … The Machine is Using Us


J. R. Carpenter - Tributaries & Text-Fed Streams: A Feed-Reading of The Capilano Review (2008)
In February 2007 The Capilano Review published an issue dedicated to new writing and new technologies guest-edited by Andrew Klobucar and including essays by: Andrew Klobucar, Global Telelanguage Resources, Sandra Seekins, Kate Armstrong, David Jhave Johnston, Laura U. Marks, Sharla Sava, Kevin Magee, Jim Andrews, Gordon Winiemko, Nancy Paterson and Darren Wershler-Henry. Tributaries & Text-fed Streams: A Feed-Reading of The Capilano Review is a personal, experimental and playful rereading of and response to these essays by Montreal-based writer and web artist J. R. Carpenter.

Bill Kennedy and Darren Wershler - Status Update
status update was commissioned by the Kootenay School of Writing for their POSITIONS Colloquium, held at the VIVO Arts Centre in Vancouver in August 2008. Part of my ongoing investigations into the status update or "tweet" (which is, as far as I can tell, an entirely new literary form), status update is also a kind of sequel to apostrophe. (Like the latter work, status update is a collaboration with Bill Kennedy.) The website works by merging my Facebook RSS feed with Bill's, eliminating redundancies, then swapping out the names (many of whom are writers already) for the names of dead poets, parsed from the Wikipedia list of poets. Each dead poet's name is also a hyperlink that leads to the individual status update for that dead writer (the page pictured here belongs to Khalil Gibran). You can even subscribe to it as an RSS feed. Later improvements will likely include some form of authorial image, and some explanatory text. In the meantime, the site is busily writing our next book for us. (launched August 2008; work in progress)

Arjun Basu - twitter twisters 140 character stories http://twitter.com
Writing exercise - tweet twisters

Kate Armstrong - Why Some Dolls Are Bad

Kate Pullinger& Chris Joseph - Flight Paths: A Networked Novel

BLOGGING

Exquisite Corpse exercise - It was a dark and stormy exquisite corpse

TEXT ANIMATION

Mary Flanagan - The House

Aya Karpinksa - open.ended

Annie Abrahams - being human
INSTALLATION / PERFORMANCE

Aya Karpinska - Lala
Aya Karpinska - For this we pray

GAME

Michael Mateas and Andrew Stern - Façade (2005)

ONLINE COLLECTIONS / JOURNALS

Electronic Literature Organization
Electronic Literature Collection Volume One
Exhibition - In Search of a New(er) Digital Literature
Exhibition - A Slow Reveal... University of Maryland
Iowa Review Web
New River: a journal of digital art
Drunken Boat
Born magazine
Rhizome ArtBase at the New Museum, New York
Turbulence Commissioning and supporting net art for 13 years: 1996-2009
Bookmarks - http://delicious.com/textfedstream

TOOLS

The Digital Artists Handbook is an up to date, reliable and accessible source of information that introduces you to different tools, resources and ways of working related to digital art.

GIMP is the GNU Image Manipulation Program. It is a freely distributed piece of software for such tasks as photo retouching, image composition and image authoring.

Inkscape is an Open Source vector graphics editor, with capabilities similar to Illustrator, CorelDraw, or Xara X, using the W3C standard Scalable Vector Graphics (SVG) file format.

Blender is the free open source 3D content creation suite, available for all major operating systems under the GNU General Public License.

Processing is an open source programming language and environment for people who want to program images, animation, and interactions. It is used by students, artists, designers, researchers, and hobbyists for learning, prototyping, and production. It is created to teach fundamentals of computer programming within a visual context and to serve as a software sketchbook and professional production tool. Processing is an alternative to proprietary software tools in the same domain.

Free web building tutorials

Creative Commons is a nonprofit corporation dedicated to making it easier for people to share and build upon the work of others, consistent with the rules of copyright.

BOOKS

Christopher T. Funkhouser, Prehistoric Digital Poetry: An Archaeology of Forms 1959-1995, Eds. Charles Bernstein and Hank Lazer, Tuscaloosa, AB: UP Alabama, 2007.

N. Katherine Hayles, Electronic Literature: New Horizons for the Literary (2008) http://newhorizons.eliterature.org/index.php

Nick Montfort, Twisty Little Passages: An Approach to Interactive Fiction, Cambridge: MIT Press, 2003.

Paul D. Miller aka DJ Spooky that Subliminal Kid, Rhythm Science (MIT Press) http://www.rhythmscience.com/