My new code narrative book, GENERATION[S], and all the other awesome books in TRAUMAWIEN Edition Schema 2, will launch at Cabaret Fledermaus in Vienna, Tuesday the 14th of December. Or, Dezember, as they spell December in Vienna. Or, Vien, as they spell Vienna in Vienna. I love being part of a production I can't even read the PR for! I can't wait to return to Vienna, where all the buildings look like cakes. And I really can't wait to see the Cabaret Feldermaus. The original was opened in 1907. The interior was designed by Josef Hoffmann. Several other well-known artists of the Viennese Art Nouveau, including Gustav Klimt, contributed to the design of the stage and furniture, as well as posters, postcards, pins and cutlery. Those days are over, alas. The TRAUMAWIEN launch event will be held in the new Cabaret Feldermaus, founded in 1967, and basically unchanged since, despite it's recent transformation into a disco club. In different places in Europe "disco" means different things. In this case, I sincerely hope there's a disco ball, to mirror the glittering mosaics of the Feldermaus of old.
In any case, it seems fitting that GENERATION[S] will launch in a venue that has seen many generations come and go. The paradoxes of this setting also seem to be in keeping with those embraced by GENERATION[S] Vienna-based publisher TRAUMAWIEN. As TRAUMAWIEN editor Luc Gross writes, "TRAUMAWIEN considers the paradox of transferring late-breaking digital aesthetics into book form, as new media narrative snapshots of literary genres otherwise quickly lost in the immense output produced by web every second."
GENERATION[S] is one such snapshot: a book collecting sentences written in Twitter, pulled into Facebook, commented upon, rewritten, retweeted, recommented, rewritten, collated into arrays, parsed by Python scripts, output as short stories in terminal windows, copied and pasted into a Word doc, spaced, placed and paginated, transformed into a book by TRAUMAWIEN's brilliant designer Julian Palacz. In the book, the digital process are reordered. The output stories come first. They are interspersed with Facebook screenshots showing the first instances of certain of the sentences they contain. The source code follows the stories it generates. Download instructions are offered. One sentence at a time. Wash, rinse, repeat.
For more info on GENERATION[S], TRAUMAWIEN and all the other awesome books launching in Edition Schema 2 visit: http://www.traumawien.at/preview/
Purchase GENERATION[S] online: http://www.amazon.com/Generation-s-J-R-Carpenter/dp/3950291032/ref=ntt_at_ep_dpi_2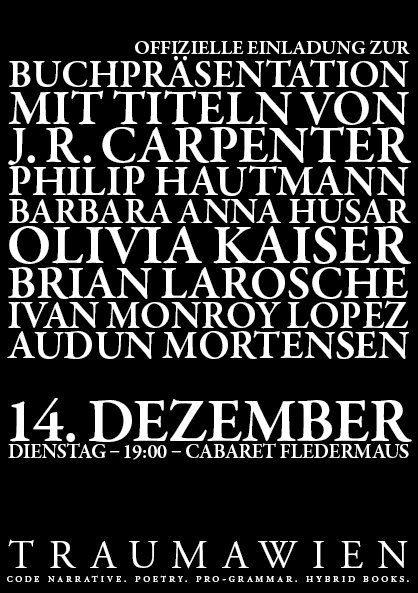 Präsentation der Edition Schema 2
J. R. Carpenter, Montreal
Ivan Monroy Lopez, Mexico City
Audun Mortensen, Oslo
Präsentation der Edition Hybrid 1
Philip Hautmann, Wien
Coups
Barbara Anna Husar, Wien
Olivia Kaiser, Wien
Brian Larosche, Oslo
Tanzmusik
Schellackplatten – Otto Jekel
othon.jekel.at
Dienstag, 14. Dezember 2010, 19 Uhr OPEN END!
Cabaret Fledermaus
Spiegelgasse 2, 1010 Wien