Notes Very Necessary is a web-based multi-media collage essay co-created by UK-based playwright, director, and dramaturg Barbara Bridger and artist, writer, and researcher J. R. Carpenter.
This new work aims to addresses the inter-related issues of cultural imperialism and climate change by appropriating and remixing images, text, and data generated by centuries imperialist, colonialist, capitalist, and scientific exploration and exploitation in the Arctic. The title is borrowed from an essay called "Instructions and notes very necessary and needful to be observed in the purposed voyage for discovery of a passage eastwards" published in Hakluyt's Voyages and Discoveries in 1580. This essay, co-authored by the Englishmen Arthur Pet and Charles Jackman, offered detailed instructions on how to conquer new territories by taking copious notes. The proposed voyage eastward, toward the discovery of a Northeast passage to China, hangs In 2015 Barbara Bridger and J. R. Carpenter attempted to follow these instructions by making, finding, and faking notes, images, data, and diagrams online and reconfiguring them into a new narrative. The result is a long, horizontally scrolling, highly variable visual and textual collage essay charting the shifting melting North.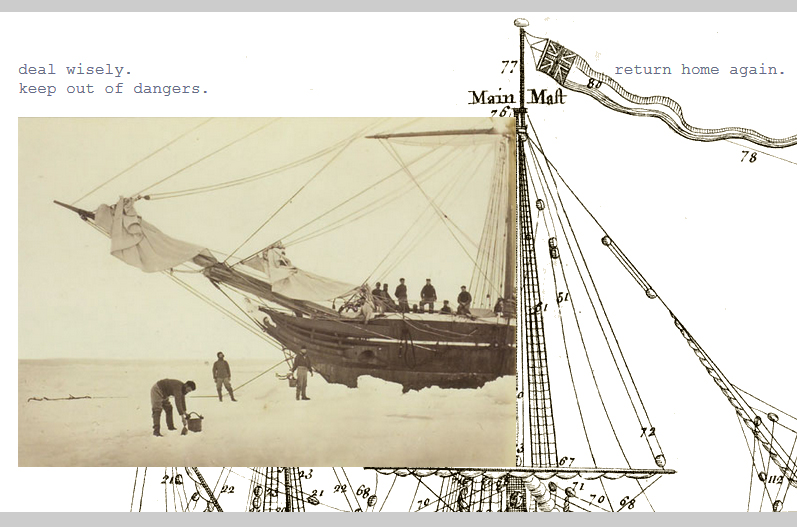 Notes Very Necessary was commissioned for conjunctions : experiments in collaboration, a collection of interdisciplinary essays co-edited by Jill Talbot and Eric LeMay, published in The New River: A Journal of Digital Writing & Art in December 2015.
"In the spirit of the essay to test new forms and practices, this collection brings together work created through collaboration. We asked writers to collaborate with other artists or artisans in the co-creation of an essay that, in some way, pushed the genre beyond words." Jill Talbot and Eric LeMay