Muddy Mouth is a poem that plays with toponomy, homonymy, river sedimentology and various other ologys pertaining to the ways migration between English-speaking places named after other English-speaking places completely messes with one's ability to speak English. Muddy Mouth is also a P.o.E.M.M. Poems for Excitable [Mobile] Media is a series of poems exploring new writing and reading paradigms, written and designed to be read on mobile devices using touch interaction, created by Jason E. Lewis and Bruno Nadeau at Obx Labs in Montreal. The first P.o.E.M.M. app – available on iTunes since the spring – is called Speak. Speak is a series of poems about place, voice and the nature of poetry itself. Using the constraints laid down by the original Speak poem app, Lewis invited a number of poets to write new poems that responded thematically and formally to those constraints. Muddy Mouth is one of those poems.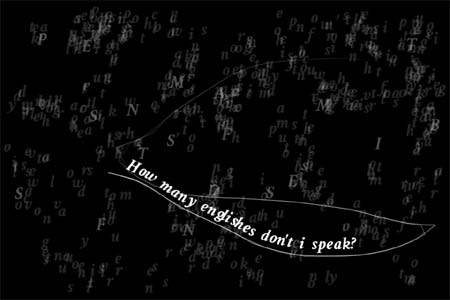 In the coming months Obx Lab plans to create a series of five P.o.E.M.M. apps, each exploring different interaction methods, collaboration strategies, and publication methods. The P.o.E.M.M.s are also part of a series of exhibition-scale interactive touch-works integrated with large-scale printed texts. To find out more about the P.o.E.M.M. project, visit www.poemm.net.
Download the Speak app from iTunes.