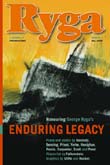 Three of my short stories appear in the inaugural issue of Ryga: A journal of Provocations, a new publication of The Ryga Initiative at Okanagan College, in association with the Okanagan Institute.
Ryga: A Journal of Provocations consists of a single or multiple works by writers whose work the editor considers worthy of readers' attention. It is published as a 275-page book, on good quality recycled paper, with a full colour laminated cover, 4 times a year, and offered for sale at $20 each through the book and periodical trade, and on http://www.ryga.ca/.
Ryga editor Sean Johnston writes:
Carpenter's quietly moving stories are about endurance in the wake of tragedy. They're about the impossibility of fully understanding the world we live in. Bodies of water dominate the stories and the constant, rhythmic movement between the literal and the figurative undersurface emphasizes the fragility of human life.

The narrator in "Truth, Dare, Double-Dare, Promise to Repeat," for instance, longs for the inevitable sexual knowledge of adulthood, but the sinister nature of the impaired vision, the silty water where she and her friends swim, makes the future dark and dangerous.
. . . . .