When Dare-Dare first accepted in absentia for their 2008 season, I was hoping it would launch sometime very late in the season. I had already committed to launching Tributaries & Text-Fed Streams in the spring and Words the Dog Knows in the fall so already 2008 was looking like a crazy year. But, as fate would have it, just as Dare-Dare was sending out notification that they'd accepted my project on gentrification in the Mile End, they received notification of their own eviction from the parc sans nom that has been their home in Mile End for the past few years. They had to be out by July 1st so it made sense to launch my project at the end of June as a farewell to the neighbourhood. When Dare-Dare proposed launching "in absentia" on June 24th, Saint-Jean Baptiste Day, I thought: What the hell – the national holiday thing will distract everyone if the work isn't quite done.
Stéphane came home from work on Saturday and said: Hey, there are posters with your name on them all over the neighbourhood. Posters, I said. What a good idea. I had proofed a draft of a poster, but it hadn't quite occurred to me that someone would then post the posters and that people would see them. Dare-Dare has been great to work with. By tacit mutual agreement, we don't pester each other with details. They do their part and I do my part and somehow it all gets done. Stéphane said: Your event is being billed as the neighbourhood Saint-Jean Baptiste Day party. That's a big deal, he assured me. One poster was in the exact location of one of the stories in absentia. Many dear friends of mine have lived in the building directly across the street over the years, and all have been evicted now.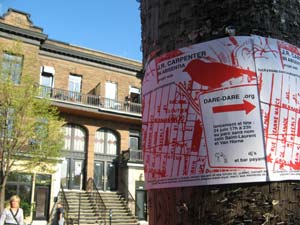 Monday afternoon I took the long metro ride east to Pix IV for an interview on CIBL's 4á6 show. CIBL is also a big deal, according to Stéphane – the last word in community radio in this town. Not only had I never heard of it, somehow I'd managed to live in Montréal for nearly 18 years without ever doing a live radio interview in French. How embarrassing. How terrifying. How did it go? Well, fine I think… but then how would I know? It was fun, at least. And there was a Village des Valeurs next door. After the interview went shopping for an outfit to wear to the launch party and with thrilled to find this four-dollar skirt.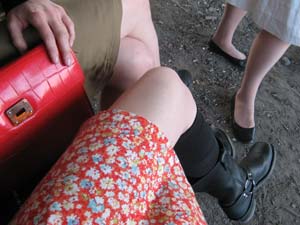 Tuesday's forecast called for 40% chance of showers. There were showers for 40% of the day. As I was leaving the apartment for tech set up at 2PM I said: It had better rain now and get it over with. It started to rain within seconds. After about twenty minutes it was over with and we had clear skies for the rest of the night.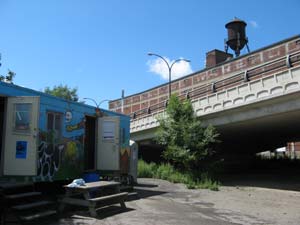 Arriving at the sans nom the first thing I noticed was that a porto-pottie had been set up next to the Dare-Dare trailer. I was glad that they'd thought of it, I certainly hadn't. I've never had a launch event large enough to require the procurement of a porto-pottie before. This career high was mediated somewhat by the realization that in absentia would be displayed throughout the launch event on two antique iMac computers. "They're are already in the museum of 20th century design," Dare-Dare director Jean-Pierre assured me as we set them up on a picnic table outside the Dare-Dare trailer. We had to run network cables out to them, because they were built before wireless networks existed. But the piece ran amazingly well on them, and really, what better computers to withstand nearly 12 hours outdoors in sun, wind, blowing grit and hundreds of beery users?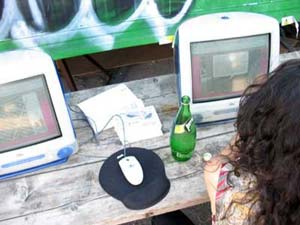 Hundreds did indeed show up. They came in waves, so at first I didn't notice how the scale of the thing kept changing. I just drifted from one conversation to the next. The NT2 polka dot crew represented and team OBORO came out in force. "in absentia" guest authors Daniel Canty and Alexis O'Hara were present as were many other dear friends. Over all I only knew a fraction of the people there. The crowd was mixed: kids, dogs, punks, artists, friends, locals and a few friendly local mentally insane folks. I took their presence as a huge complement. If the local mentally insane know that your party is THE Saint-Jean Baptiste Day party to be at you have really made it in this town. Many people were unaware of what the party was for or about other than that it was about having a party, which was certainly one of the things this party was about. Other people were acutely aware of what the work that prompted the party was all about. Stories of evictions from Mile End abounded. Someone on the Dare-Dare selection committee told me that Dare-Dare hadn't yet been evicted from the parc sans nom when they accepted "in absentia" but he and a number of the other Dare-Dare members had already been forced to move. One guy came up and told me he'd been at home packing when he'd heard about the project and the party on the radio and decided to come check it out. Wow.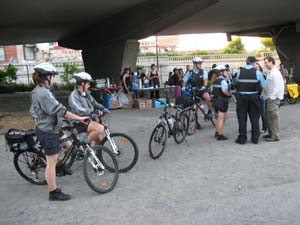 The police came three times on account of noise complaints, which totally eclipsed the on-site porto-potties as my new career high. The bicycle cops have the shapeliest legs. The programming director of Dare-Dare gave "in absentia" postcards and I merrily introduced myself to each and every officer as "the artist" which confused the heck out of them. It's pretty hard to argue with a Saint-Jean block party, especially considering it would be Dare-Dare's last party every in the parc sans nom. I mean, what were the police going to do, evict us? Everybody remained peaceful, the police left us in peace and people went on dancing until 2AM.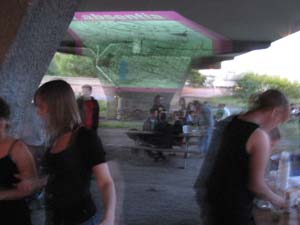 The official cocktail of the evening was the mojito, which was also the official cocktail of my wedding. This was pure coincidence as I had so little to do with the party planning I didn't even know there would be an official cocktail. All the bartenders were volunteers, as were all the dj's: Julie d, Tommy T, Rustic, Backdoor, Dirty Boots, papa dans maman, catherine lovecity, alakranx, cristal 45 et FSK1138 & jason j gillingham. FSK1138 & jason j gillingham did some kind of crazy live set using sounds extracted from the blue and red values of photo data taken from images of in absentia. The sound data was extracted using 'BeepMap' a flstudio image synth. A few days later FSK1138 dropped off a CD of these sounds in my mailbox. A few days later FSK1138 popped a CD of these sounds in my mailbox. Thank you guys, so much.
I'm blown away by the generosity of all these volunteers and mightily impressed by the hard work and dedication of the Dare-Dare community. All night the programming director of Dare-Dare worked crowd control with a super grounded zen like calm, negotiating with the police and the locals and the drunks and the crazies and me the artist and picking up empties and taking photos and restocking the bar with beer. At some point I said to someone, "Man, can you imagine being the guy in charge of all this?"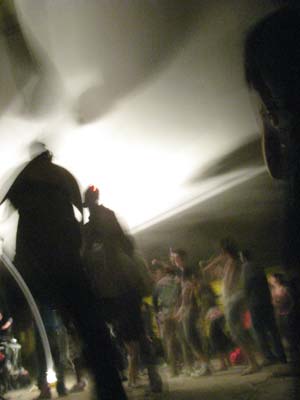 At some other point in the evening I was sitting with a group of friends watching the masses dancing, casting wild elongated shadows on the underside of the Van Horne Viaduct when it hit me that there were more people at this party than there had been in my entire elementary school. I tried to explain how overwhelming this was. Someone said: "What did you go to a Montessori school or something?" No, I just grew up in a place where there were that few people! When I was a kind in rural Nova Scotia most folks scoffed when I said I was going off the big city to study fine arts in university. When I started making art on the Internet most folks scoffed and said: "The Internet's just a fad, it will never catch on." So I found it beautiful that a web-based fiction project could bring so many real people together in a physical space.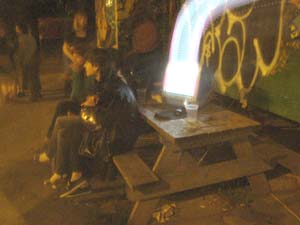 At some very late point in the evening I was standing on the steps of the Dare-Dare trailer taking night photos each on more surreal than then next yet not quite able to capture the scene when artistic director Jean-Pierre passed by and asked me if I was enjoying my party. My party? "It's bigger than all of us," I said. One of the stated aims of in absentia is so "haunt" the neighbourhood with the stories of its former tenants (fictional or otherwise) who have been forced out by gentrification. If my night photos are any indication than yes, I think my plan is working.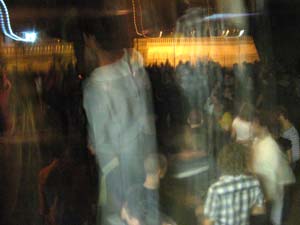 in absentia is now online: http://luckysoap.com/inabsentia. I will continue to add new stories over the course of the summer until November 2008. It will take at least that long for all of the ramifications of this project to sink in. If you have stories of gentrification and its erasures in the Mile End feel free to add them as comments to this post or summit them via the comment box within the piece.
. . . . .