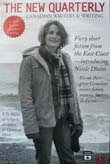 My short story, Hennessey's High Pasture, appears in The New Quarterly, #98, Waterloo, ON, Spring 2006. This story used to be called The Bayley-Hazen Road. I began writing in 1996, and submitted it to at least a dozen journals since then. I am grateful to every editor who had the good sense to reject it before it was ready. My thanks to the Trautz family, for helping start the story off; to Jenn Goodwin, first reader; Amy Hempel, generous reader; and Kim Jernigan, The New Quarterly editor who turned up at end of the old Bayley-Hazen Road.
Excerpt from Hennessey's High Pasture:

"Most nights the dogs and I walk up to Hennessey's high pasture. You can see the whole King's County from up there. Even when it's dark you feel it, the earth curving away from you. But I'm not ready yet. I smoke a cigarette. No matter which way I hold it, the smoke blows toward Earl."
J. R. Carpenter
. . . . .