Reading Rebooted: Glimpsing the Future of Literature in the Digital Age
Earlier this month,
in absentia
was included in an exhibition called
Reading Rebooted: Glimpsing the Future of Literature in the Digital Age
. Reading Rebooted opened its doors on Nov 30, 2009 at 5pm, at the Kipp Gallery, on the campus of Indiana University of Pennsylvania. A project of the Kipp Gallery, IUP Center for Digital Humanities and Culture, and students from the Graduate Program in Literature and Criticism, the exhibit aims to "explore the imaginative engagement of poets and fiction writers with the tools of new media. . . inventing a post-Gutenberg space for literature."
We are interested in thinking about how digital writers engage with the possibilites of public and private, social and individual in their work. And while all of the pieces selected are available on the web (unlike some digital works designed for site-specific installations) and so can be "read" by an individual user on his or her private laptop, in the security of the home, we are placing them in the social space of the gallery.

We wanted to show them in the gallery because we are interested in how visitors to the site will choose to interact with these works. The spatial configuration of the gallery itself is envisioned as offering the visitor significant choices about how to take in these works ... to read, use, play, operate, and spectate...
Fourteen works from twelve digital writers were selected for this exhibition: Chris Ault, Alan Bigelow, Serge Bourchardon, J. R. Carpenter, Roderick Coover, Peter Cho, Andrei Gheorghe, David Jhave Johnson, Maria Mencia, Jason Nelson, Jody Zellen and Brian Kim Stefans.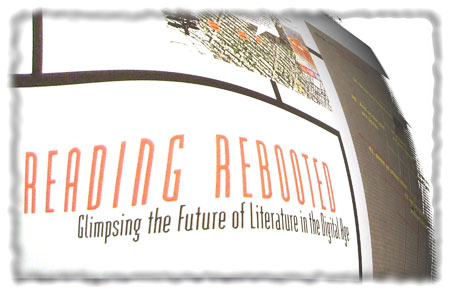 http://readingrebooted.iupdhc.org/
. . . . .
Labels: electronic literature, in absentia