MiT5: creativity, ownership and collaboration in the digital age
MIT, Cambridge, MA - April 27-29, 2007
http://web.mit.edu/comm-forum/mit5/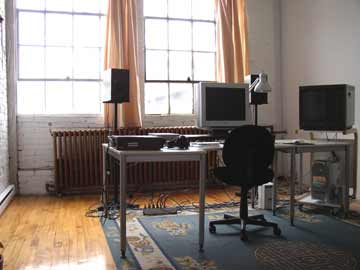 Entre Ville
was commissioned in 2006 by
OBORO
, a Gallery & New Media Lab in Montréal, on the occasion of the 50th anniversary of the
Conseil des arts de Montréal
.
The commission included a four-week residency at OBORO New Media Lab. This is Studio 3, where I edited the 17 short videos included in Entre Ville.
Entre Ville
launched at the Musée des beaux-arts de Montréal on April 27, 2006.
Un 50e anniversaire - En ville et sur l'île
Pierre Vallée - Le Devoir - Édition du samedi 29 et du dimanche 30 avril 2006
Entre
is the French word for "between," as in:
entre nous
, "between us".
Ville
is the French word for city. Driving into Montréal, all signs point to
centre ville
, downtown. I live north of downtown in a neighbourhood called Mile End. I work at home. My office window opens onto a jumbled intimacy of back balconies, back yards and back alleys. Daily my dog and I walk through this interior city sniffing for stories.
Entre Ville is a text of walking, and a walk through texts. There are many authors of our neighbourhood. Some are famous, some less so. In this paper I give fictional, poetic and philosophical voices equal credence. And the neighbours get a say.
It's a shared city, after all, this city
entre nous
.
"Towns are the illusion that things hang together somehow…"
Anne Carson, The Life of Towns, 1995.
Montréal is both literally and figuratively a French-speaking island. It's the second largest city in Canada, yet only 17% of its population claims English as a first language. It's a complicated place, but things hang together somehow... Montréal's been very good to me.
I grew up in rural Nova Scotia:
The Mythologies of Landforms and Little Girls, 1996.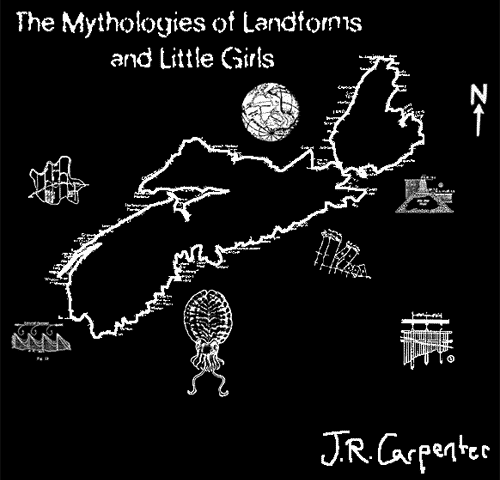 I decided to move to Montréal when I was twelve. I read all the English Montréal authors I could find, oblivious to Québecois culture or politics.
"I was writing poetry and breathing poetry and talking poetry and nothing else had any reality."
Irving Layton,
Waiting for the Messiah
, 1985
I pondered the nude girl in Leonard Cohen's 1958 poem Snow Is Falling:
She is eighteen.
She has straight hair.
She speaks no Montreal language.
What was a Montréal language? I was dying to know.
"On St. Urbain Street, a head start was all. Our mothers read us stories from Life about pimply astigmatic fourteen-year olds who had already graduated from Harvard or who were confounding the professors at MIT." Mordecai Richler, The Street, 1969.
It happens that I now live on Saint-Urbain Street, on the same block Mordecai Richler grew up on. It took me a while, but here I am at MIT.
Ideas of "place" have long figured prominently in my writing and web art projects: