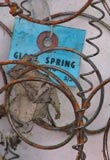 << ENTRE VILLE >>
"Saint-Urbain Street Heat"
Some of you who have never been to Montréal in the summer don't believe how hot it gets here. Those you who live here, well, you know. Set in the same neighbourhood as Saint-Urbain's Horsemen but more ruelle-centric, with lots of neighbours like in Balconville, only shorter and poetry and contemporary and completely different really, "Saint-Urbain Street Heat" will leave you sweating in your undershirts. Here's an excerpt:

All the kitchen
back doors stand open –
sticky arms flung open –
imploring, a heat-rashed prayer:

Deliver us unto
the many gods
of Mile End.

Read "Saint-Urbain Street Heat" on Nth Position, a free London-based online magazine/ezine with politics & opinion, travel writing, fiction & poetry, reviews & interviews, and some high weirdness from around the world. Read, subscribe, submit: nthposition.com

<< ENTRE VILLE >> In 2006 I was commissioned by OBORO New Media Lab to creat a new web art project in conjunction with the 50th anniversary of the Conseil des Arts de Montreal. "Saint-Urbain Street Heat" evolved into << ENTRE VILLE >> which launched at the Musée des beaux-arts de Montréal, April 27, 2006.