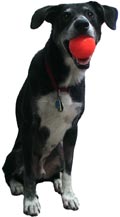 September 30 & October 1, 2006
Between 12 & 5pm

RESERVATIONS: 514.843.3685

MORE INFO



Sniffing for Stories is an audio piece. It's a prose poem. It's one block long. It's a long block. It's a walk we walk every day. Here's an excerpt:
We take other walks besides this one, but lets say we don't.
Let's say our dog walks us up and down this alleyway three times a day.
That's eight-and-a-half years of up and eight-and-a-half years of down.
Nine thousand three hundred laps of toenails clicking on cracked concrete.
Trail zigzagging, long tail wagging, long tongue lolling, dog tags clacking.
Ears open, eyes darting, nose to the ground.
READ THE REST OF SNIFFING FOR STORIES >>>
Sniffing for Stories is part of In-situ Cité, an interactive project directed Stephen Lawson. In-situ Cité invites the public to explore five unusual sites or cultural landmarks in the Mile-End through the audio atmospheres and scenes created by five eclectic Montréal-based multidisciplinary artists - poet and web artist J.R. Carpenter, interdisciplinary and performance artist Nathalie Derome, author and performer Skidmore, journalist and writer Geeta Nadkarni, and filmmaker/editor Rosella Tursi.

Audience members will be equipped with a map of the route and a personal sound device (CD player). The tour is free. It lasts approximately an hour. It will start from the Casa del Popolo, 4873 boul. St-Laurent. Reservations are suggested. To make a reservation call Playwrights' Workshop Montréal @ 514.843.3685 It's a good idea to bring a CD player of your own as only a limited number will be provided.

Audience members are also invited to stick around after their tour to meet the artists during one of the two talkback sessions hosted by Stephen Lawson on Saturday, September 30th and Sunday, October 1st at 4 pm.

Warning: possibility of sunshine, rain, bugs, wind, falling leaves, flowers, animals, cyclists, and strange encounters. Please equip yourself accordingly.

In-situ Cité is presented by Playwrights' Workshop Montréal in collaboration with Les Journées de la Culture, Gallery OBORO, and CKUT Radio. My thanks to those sponsors, Stephen Lawson and everyone at PWM, all the other artists, Rosella for the editing expertise, Scott for the camera, Michelle & Aras for the mic, Stéphane for so much, and Isaac for being The Dog With the Orange Ball.