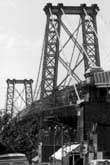 "Two Generations Ago" appears printed on a magnetic sheet placed in-situ in Brooklyn, NY, USA, as part of the FORMER RESIDENT PROJECT which launches during the
Conflux Festival
September 4-17, 2006.


At Conflux, participants turn NYC into a playground, a laboratory and a space for the development of new networks and communities. All events are free and open to the public. They include walks and tours, lectures, workshops, street games and tech-enabled expeditions, interactive performance, public art installations, movies, etc.
Look for my very short story, Two Generations Ago, on the streets of Brooklyn this September. Literally. It will be on on a street somewhere near the Williamsburg Bridge. Rachelle Viader Knowles has included the story in her FORMER RESIDENT PROJECT, which explores the city through the narratives of the no-longer resident, people whose lives have been shaped by their experiences of places they no longer inhabit. For many of us, 'residence' is a multiple thing, a series of narratives and residues that shift and slip over time. When we leave a place, what do we take? And what do we leave behind? The project includes stories donated by former 'residents' of Brooklyn about something that happened in a particular location. Each story has been printed onto a fridge magnet and posted near that location. The the address are listed on the website: http://www.former-resident-project.net

Here's my story:

The Williamsburg sidewalk glitters in the night: mica, silica - there's a name for this. I walk through geological vocabulary, a trivia of mineral terminology tumbles in my head.

She's waiting in a tavern in Greenpoint. Small, and greenly lit, she sits at the bar. Back to the window, back bent, slumped. She's doesn't expect me yet; her posture's run amuck.

Gabe insisted I call her. "I won't have time," I said.

"You're staying in her neighbourhood. One quick drink."

"I filed a complaint you know," she's sitting up straight now, at a different bar. Better lit. "He was practically stalking me," she says, and I notice that we look a lot alike. I could see it all: small presents, sophisticated ingratiating, extravagantly oblique gestures, ego drenched in expectations.

"She's great. You'll love her." He hadn't been in love with her. In lust. In unrequited enthral.

We walk down through North Side. Our same-cut short black hair invisible in the nervous late night passage beneath the overpass of the BQE. Emerging into a low wasteland of post-industrial buildings, our same-size shadows pass impassive flat black walls.

"Isn't it dangerous, to walk though here?"

"But I have you to protect me," she puts her arm though mine. Her watch hangs loose on her lean wrist, which rests on my crooked sleeve - the low glow of the dial brighter than the lamplight. In the empty sound of our footsteps I tell her: "He told me, how the sidewalks sparkle here." Glacial out-wash - granite? Quartz? Manhattan looms. The Williamsburg Bridge keeps the Lower East Side on a tight leash.

"My grandmother lived around here," I say.

"Oh yeah?" She gives my arm a squeeze. A whole story pops out.

"Every Shabbas. Saturday afternoon. My Grandmother, her sister Ruthy and a couple hundred other Jews walked across the Williamsburg Bridge. Religiously, to visit family."

We round a corner onto a busy street. The neighbourhood presents another face.

"Where are we?"

"The hippist art-welder bar in Brooklyn." Inside, everyone looks vaguely familiar. If I lived here I'd know every other person. But I haven't lived here for two generations.

She winks wildly, tells everyone that she's my sister.

Suddenly I'm very tired. All that walking. She takes my hand. Our palms fit together - hers the same size as mine.

FORMER RESIDENT J. R. Carpenter, lived in Brooklyn two generations ago. Now lives in Montreal.