Read CityFish
Vote for CityFish in the The New Media Writing Prize 2012 People's Choice Award.
Download a PDF of a paper about CityFish by J. R. Carpenter
Shortlisted for the New Media Writing Prize 2012

CityFish is a hybrid word, title of a hybrid work, tale of a hybrid creature. Part classical parable, part childrenís picture book, CityFish is a web-based intertextual hypermedia transmutation of Aesopís Town Mouse Country Mouse fable. Winters, a Canadian girl named Lynne freezes in Celsius in the fishing village of Brooklyn, Nova Scotia (Canada), a few minutes walk from a white sandy beach. Summers, she suffers her city cousins sweltering in Fahrenheit in Queens, New York (USA). By now Lynne knows everyone knows itís supposed to be the other way around. Lynne is a fish out of water. In the country, her knowledge of the city separates her from her school of friends. In the city, her foreignness marks her as exotic. Meanwhile, the real city fish lie in scaly heaps on long ice-packed tables in hot and narrow Chinatown streets. CityFish represents asynchronous relationships between people, places, perspectives and times through a horizontally scrolling browser window, suggestive of a panorama, a diorama, a horizon line, a skyline, a timeline, a Torah scroll. The panorama and the diorama have traditionally been used in museums and landscape photography to establish hierarchies of value and meaning. CityFish interrupts a seemingly linear narrative with poetic texts, quotations, Quicktime videos, DHTML animations, Google Maps and a myriad of visual images. Combining contemporary short fiction and hypermedia storytelling forms creates a new hybrid, a lo-fi web collage cabinet of curiosities. The story of Lynne and the city fish unfolds in this strange horizontally scrolling world of absences and empty spaces Ė furious, intimate, and surreal.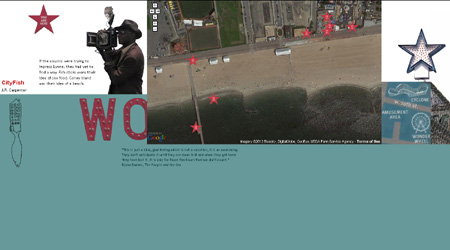 http://luckysoap.com/cityfish

There is a Google Map satellite view of Coney Island embed in CityFish, which - for now - shows the beach, boardwalk, amusement park, and bordering neighbourhoods in pristine condition. Coney Island was but one of the many coastal communities in the tri-state area hard hit by Superstorm Sandy in October 2012. Eventually the Google Maps satellite view will be updated to reflect the effect of climate change on this coastline, but the new images will reveal little of the loss experienced by these communities. My thoughts are with these families.
JRC November 2012

CityFish is a work of fiction, I swear. Any resemblance to real-life mothers, uncles, aunts or cousins anywhere may be attributed to the common craziness of all families everywhere.

CityFish was included in the Leonardo Electronic Almanac New Media Exhibition Re-Drawing Boundaries curated by Jeremy Hight, with senior curators Lanfranco Aceti and Christiane Paul, April-July 2011.

CityFish was published in soundsRite, a journal of online sound and writing, University of Western Sydney, Australia, Volume 3, April 2011

I presented a paper on CityFish at Officina di Letteratura Elettronica, PAN Palazzo delle arti Napoli, January 20-21, 2011. The paper was published in Lavori del Convegno OLE Officina di Letteratura Elettronica, Lello Masucci e Giovanna Di Rosario. Eds., Palazzo Arti Napoli. 20-21 gennaio 2011, pages 143-154. A PDF of that paper is available for download here: JRCarpenter_CityFishEssay.pdf

CityFish was on exhibition at PAN Palazzo delle arti Napoli January 20 - February 20, 2011.

A beta version of CityFish was presented at "Archive & Innovate, The 4th International Conference & Festival of the Electronic Literature Organization," Brown University, Providence, Rhode Island, USA, June 3-6, 2010.

A portion of CityFish was presented as a work-in-progress at "Interventions: Literary Practice at the Edge: A Gathering," at The Banff Centre, Banff, Alberta, Canada, February 18, 2010.

Some of the videos in CityFish were edited during the "Babel Babble Rabble: On Language and Art" thematic residency at The Banff Centre in 2006. Thanks to Pelletron, Notsosimpleton and all that crew.

The Coney Island videos were shot in 2005 with the assistance of Eric Fleischer, least crazy of cousins.

Additional Chinatown and Flushing photography was shot in 2010 with the assistance of Jerome Fletcher and Aphra Kennedy-Fletcher.

My most humble respect to the authors of the texts I've reprinted without permission: Rob Allen, Djuna Barnes, Michel de Certeau, Lawrence Ferlinghetti, Allen Ginsberg, and Henry David Thoreau.

A very very very early web-based version of CityFish was presented in an exhibition called ISWAS, at the Bavarian American Hotel in Nuremberg, Germany, July 1998.

CityFish was created with the generous support of the Canada Council for the Arts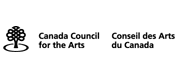 http://luckysoap.com/cityfish