Presenting: There he was, gone. A new computer-generated narrative dialogue published on Joyland Poetry. Many thanks to Joyland Poetry's Europe editor angela rawlings, who solicited and encouraged this work, to Jerome Fletcher and Barbara Bridger, who provided much useful feedback during the creation process, and to all those who have lent their voices to poli-vocal performances of this work.
There he was, gone. has been performed by Barbara Bridger, David Prater, Christine Wilks and myself at Arnolfini, Bristol, UK during PW12 Performance Writing Weekend, in association with ELMCIP Seminar on Digital Textuality with/in Performance, 3-6 May 2012; and by Debra di Blasi, Jerome Fletcher, Judd Morrissey and myself at the Sorbonne, Paris, during &Now 2012: New Writing in Paris: Exchanges and Cross-Fertilizations, 6-10 June 2012.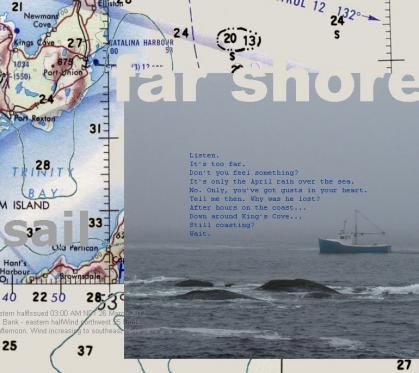 How do we piece together a story like this one? A mystery. The title offers more questions than answers. There he was, gone. Where is there? Who is he? Where has he gone? How is this sentence even possible? There he was, not there. As if "he" is in two places and in no place, both at once. The once of "once upon a time." This story has to do with time. This story has to do with place. That much is clear. We time to look around the story space. What do we see? A corner of a map. An abstraction of a place too detailed to place, unless the places it names are already familiar. Is this a local story then? For locals, between locals… if we do not know the answer to this question, then we are not local. We seem to have stumbled upon an ongoing conversation. Listen. A dialogue of sorts. It's too late. An argument, even. One interlocutor instigates. Can't you feel anything? The other obfuscates. It's only the spring squalls over the bay. All that's not said between these two hangs in a heavy mist, a sea fret low over a small fishing boat turned broadside to a pack of hump-backed slick black rocks. This story is fishing inshore. Close to home. Tell me then. Where was he found? A litany of place names follows. No answers. More questions. Wait. Listen. This story keeps shifting. Slow scrolling lines of poem roll in. set sail on home sick ship shape house wreck. What help is that to anyone? We arrive and we have only just finished leaving. What use is a poem? We sift through the fine print, searching for clues. GALE WARNING IN EFFECT, Funk Island Bank. Weather conditions for today's date. Wind northwest 25 knots diminishing to west 15 this morning and to light this afternoon. Is the disappearance hinted at in the title a recent one? There he was, gone. Whoever he was, wherever he went, this story springs from his absence. J. R. Carpenter 2012
View There he was, gone.