This is a list of names of places travelled to this past year. Places which took more than half an hour to get to by car or by train, or more than an hour to walk to. Places in which a day was spent, or a night, or a meal. Places involving a strange bed, a map, a menu pondered over, a view contemplated, a waterfront walked along, a walk of any kind, a bookshop, a library, a companion, a conversation, a conference, a performance, a spot of shopping, or any combination there of. Places I remember.
This list does not include the names of airports or ferry terminals or motorway service stations or other such in between places. Nor does it include the names of all the places that travelled to me, via visitors, phone calls, postcards, packages, skype, the interweb, books and films. It doesn't bother with the countless trips into Dartington or Totnes to purchase provisions and no doubt forgets about a few of the impromptu excursions further afield to South Devon beaches, pubs, and dear friends' homes.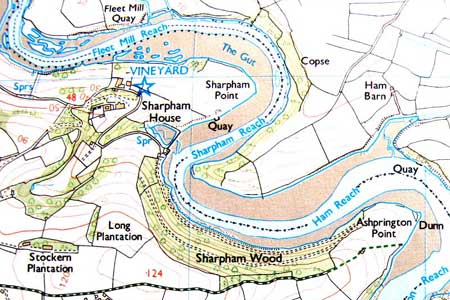 Though this list begins at home at Sharpham House, and ends at home at Sharpham House, with no other instances of Sharpham House listed, there were certainly stretches of home in between, spent doing pretty much what Elizabeth Bishop imagines herself doing in the "crypto-dream-house," she longs to walk as far as in The End of March. Which is to say, despite, or perhaps because of all the travel this past year, and though Sharpham is the antithesis of a "sort of artichoke of a house," there were also many days in which I did nothing but:
look through binoculars, read boring books,
old, long, long books, and write down useless notes,
talk to myself, and, foggy days,
watch the droplets slipping, heavy with light.
Sharpham House
Falmouth
Exeter
London
Naples
Pompeii
Rome
Montreal
Banff
Oxford
Falmouth
London
Bantham
Start Point
Penzance
Mousehole
Porthcurno
Sennen Cove
Bude
Banff
Montreal
Toronto
Buffalo
Sackville
Wolfville
Falmouth
Peggy's Cove
Halifax
Sackville
Halifax
Sackville
Falmouth
Lime Regis
Burgh Island
La Rochelle
Temple sur Lot
Cahors
Frontignan
Sète
Montpelier
Nîmes
Argentat
Saumur
Rennes
Bath
Ljubljana
London
Bristol
London
Paris
Falmouth
Bristol
Oxford
St. Ives
Mousehole
Lizard
Poldhu
Falmouth
St. Austell
Teignmouth
Bournemouth
Barcelona
Bath
Amsterdam
Dartmoor
Bath
Sharpham House