If we meet someone 
who owes us thanks,
it will immediately 
occur to us.  How 
often we can meet 
someone where the 
debt is on our side, 
and we do not give 
it a thought.
Goethe

for more links and reading lists, visit:
lapsus linguae
(a blog of sorts)
Funding Organizations
I gratefully acknowledge the financial support of: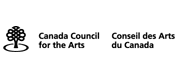 « Entre Ville » was commissioned by OBORO in conjunction with the 50th anniversary of the Conseil des Arts de Montréal - 2006.


Residency Programs

OBORO is a centre dedicated to production and presentation of art, contemporary practices and new media. Since 1996, the remarkably dedicated individuals of the OBORO community have supported me personally and professionally in every way possible. I was fortunate enough to be and artist in residence at the OBORO New Media Lab January 10 - February 4, 2005 and November 16 - December 20 2005. In January 2006 I joined OBRO's board of directors. I now serve as president.
OBORO, Montréal

I made my first ever web art project during the ten-week "Telling Stories, Telling Tales" Thematic Residency at the Banff Centre for the Arts in 1995. In May 2006 I returned to Banff for the seven-week "Babel Babble Rabble: On Language and Art" Thematic Residency. Banff has had a profound impact on my life and work and I hope to return before another ten years goes by!
The Banff Centre, Banff Alberta

In November-December 2006 was awarded a six-week writing residency at Ucross. Ucross is located on a 22,000-acre ranch in the foothills of the Big Horn Mountains near Sheridan Wyoming, USA. The artists-in-residence program operates out of the fully restored Clear Fork headquarters of the Pratt and Ferris Cattle Company, built in 1882. Only four writers and four studio artists are granted residence at one time.
Ucross, Clearmont, WY, USA

In January-February 2007 I was awarded a six-week writing residency at Yaddo. Founded in 1900, Yaddo is located on a 400-acre estate in Saratoga Springs, NY, USA. Collectively, writers who have worked at Yaddo, including so many of my heros have won 61 Pulitzer Prizes, 56 National Book Awards, 21 National Book Critics Circle Awards, a Nobel Prize, and countless other honors.
Yaddo, Saratoga Springs, NY, USA

In April 2004 I was awarded a fellowship to attend a one month writing residency at the Vermont Studio Centre in Johnson, Vermont, USA. Visiting authors during my residency were Maureen Howard and Amy Hempel, who helped me immensely.
Vermont Studio Centre, VT, USA

In January 2004 I was awarded a one month residency at Caldera, a nonprofit interdisciplinary arts organization committed to fostering creativity, experimentation and a deeper appreciation for the environment. Caldera is located at on 90 acres of pristine wilderness in the Cascade Mountains, Oregon, USA.
Caldera, OR, USA


Montréal Institutions

The Quebec Writers' Federation (QWF) is an invaluable resource to English language writers in Québec, providing information on literary events, programs, calls for submissions, contests and workshops.
The Quebec Writers' Federation, Montreal

The English-Language Arts Network (ELAN) is devoted to helping Quebec's English-language artists make connections with one another, with their francophone colleagues and with their audiences in Quebec, Canada and internationally.
English-Language Arts Network, Montréal

The Blue Metropolis, Montréal's International Literary Festival, takes place every April.
Blue Metropolis, Montréal

Concordia University now boasts New Media facilities and programs unheard of when graduated in 1995 with a BFA in Studio Art, Concentration - Fibres. In 2005 I registered at Concordia again as an Independent Student to see what English Literature is all about. So far, so good.
Concordia University, Montréal

Since 1996 Montréal's Studio XX has worked with women to demystify digital technologies, critically examine their social aspects, facilitate women's access to technology, and create and exhibit women's new digital art. 2006 marks the formation of Collectif Matricules, 10 artists creating new works based on the 10 years of Studio XX's archives (myself among them).
Studio XX, Montréal


Useful Web Resources

Rhizome - The New Media Art Resource - lists media art related opportunities conferences and calls for submissions and The Rhizome ArtBase contains new media art works including one of my pieces: "The Orchard of Innumerable Plans"
Rhizome - The New Media Art Resource

The Alliance of Artists Communities website includes an extensive list of international arts organizations in every discipline, invaluable for researching residency programs.
Alliance of Artists Communities, USA

Trans Artists is an international, independent, searchable information centre for artists, artist-run initiatives and cultural institutions offering information on cultural exchanges, artist in residence programmes and work opportunities.
Trans Artists, Netherlands